Latest News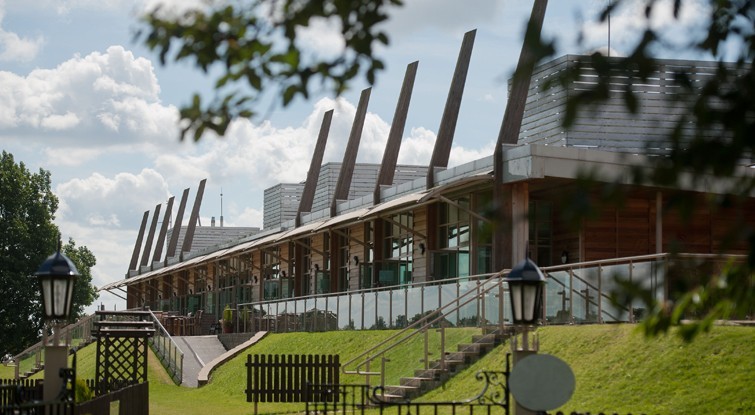 Provincial Grand Lodge MMM Lincolnshire 2018
Your summons to the Provincial Grand Lodge of Mark Master Masons for Lincolnshire meeting for 2018 will soon be dropping on to your doormat. The date to put in your diary is SATURDAY 24th MARCH 2018 to take place at the Epic Centre, Lincolnshire Showground, Lincoln.
If you would like to get your booking in early, you can download the Meal Booking Form HERE.
---
Traveling Sceptre
The Ark Lodge of Royal Ark Mariners claimed the Traveling Sceptre last night from St Owald RAM Lodge No 387.
Eight members had travelled to St Owald RAM Lodge to claim it.
W. Bro Ron Harrison was the leader of the raiding party
We had a candidate for elevation Bro Rob Pursey a great night was had by all
Thirty two brethren enjoyed the comradery at this splendid meeting. See if you can get a group from your own RAM lodge to claim the travelling sceptre for yourselves, and add to the fun.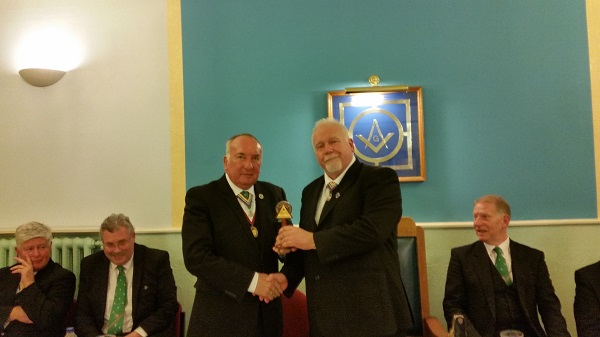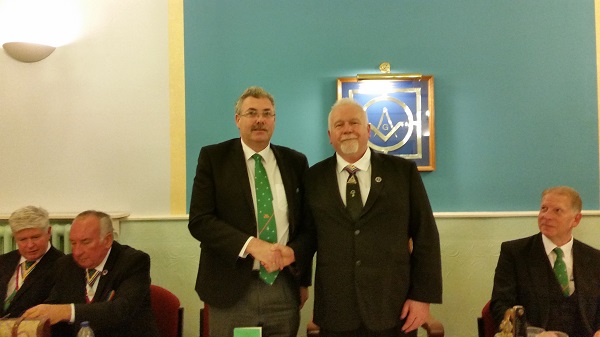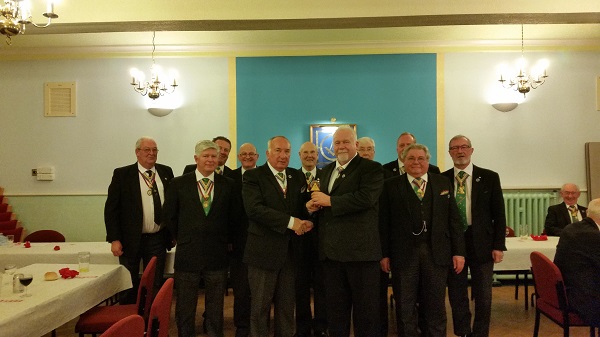 ---
RAM 50 Year Certificate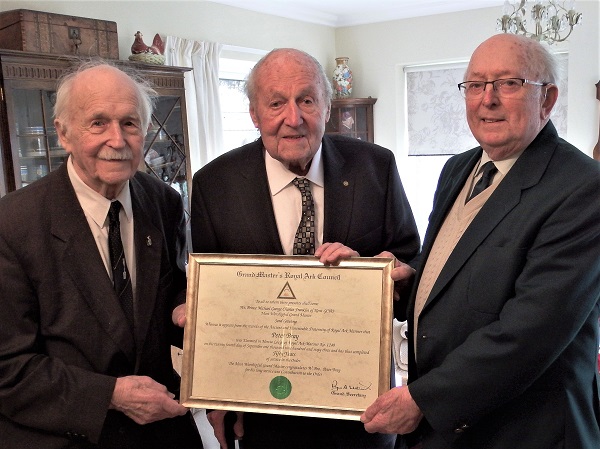 At a presentation ceremony in his home on Monday 12th March 2018, W.Bro. Peter Bray PrRAMGR of Mercia RAM Lodge 1240 in Spalding was presented with his RAM 50 Year Certificate by senior members of the Lodge. W.Bro Bray (aged 93) will in fact be celebrating 55 years in the degree in 2018 but had somehow managed to slip through the net regarding his certificate! The Lodge Scribe, W.Bro Barry Humphrey RAMGR explained to W.Bro Peter that a recent trawl of Lodges, at the request of the Provincial Secretary, had uncovered the anomaly and that they were there to put matters right.
The Certificate was then formally presented by W.Bro. Bryan Robinson RAMGR aged 92, the senior member of Mercia RAM Lodge and himself a holder of a RAM 50 Year Certificate (and currently heading towards 60 years service) and W.Bro Douglas Drakard RAMGR (age 81) the third senior member of the Lodge after W.Bro Peter Bray. The photograph (showing left to right W.Bro Bryan Robinson, W.Bro Peter Bray and W.Bro Douglas Drakard) with over 153 years of service between them, was taken by W.Bro Barry Humphrey RAMGR, Lodge Scribe.
---
The winner of the first quiz on Coastal Towns...
... was Joy Geelhoed with Runner Up being Bro. Chris Rimington who both scored 50/50...the winner being decided by a draw.

Just to prove that it was not a fluke and what experts they are at these quizzes, the winner of the Castles Quiz, again with 50/50 was Joy Geelhoed... the Runner Up was Bro. Chris Rimington who got 49/50.

Many thanks to all who submitted entries.
Derek Bontoft.
---
Arthur's Epic Trek
MBF Hope for Tomorrow Charity and The Matt Hampson Foundation Walk

Tuesday 6th February 2018.   Market Rasen to Lincoln
My walk started with a great send off by the President Tony Smith and members of Market Rasen and Louth RUFC AT 8-30 am with a weather temperature of  -1 deg C , and a sprinkling of snow.
The Club had pledged the sum of £250-00 so I was warmed by this generosity for two very worthy causes.
I proceeded to Linwood, Lissington, Wickenby, Snelland, Scothern, arriving at Lincoln Rugby Club Nettleham at 3pm. A few photographs were taken and I proceed to Lincoln Cathedral thus ending my journey at around 4-15pm., having completed 18.9 mile. Well and Truly worn out.

Wednesday 7th February 2018. Newark to Grantham
I did not want to get out of bed ! Or rather I couldn't. My hips sere sore, my feet were sore, and old sporting injuries seemed to return.
I was thinking ! What excuse can I make so as not to go. All the way to my start point, I was still thinking ! How can I get out of this.
I could not think of any good reason, so I started my journey to Newark.
Called at Pennells for a quick cuppa.
After a couple of "painfull miles" I headed towards Haddington, Thurlby, Bassingham, Norton Disney to Stapleford.
Taking the route through Stapleford woods, which was endless.
I continued on my journey to Coddington. Stopping at the Plough Inn for a cup of tea and sandwhich. Getting up was hard work as I had sat for half hour and was  "stiff"  again.pp
I continued into Newark down the hill ( thankfully not up the hill) and was beginning to tire.
I past the Castle and headed for Newark Rugby ground. Arriving at 3-20pm.
I met the President of the Club Mr Alan Swain, who was very accommodating . I had another cup of Tea and more photo's.

Friday 9th February 2018  
I started my journey from Newark  at 8-30 am, Feeling pretty well considering the journey so far.
I was anticipating rain, sleet and brisk winds. However! Fortunately neither appeared.
I hit Long Bennington and picked up the Viking Way across the A1 motorway.
The state of the Viking Way heading towards the Grantham Canal is terrible. A real disgrace.
The servicing of the fields by the farmers is a necessity, and must come first. However! The water levels and "deep ruts" by tractors in my opinion is dangerous. Perhaps notices saying "not recommended for use at this moment of time"
You guessed it ! I fell in a trench after it gave way.
I eventually made the Grantham Canal  and had a pleasant walk along the "Tow Path" into Grantham.
Faced with the prospect of Somerby Hill to the Kesteven Rugby Ground, I headed through Grantham Town appearing like a "mud man" and receiving some very strange looks.
I arrived at Kesteven RUFC  about 3-30 pm, about 1 hour ahead of schedule.
Again! I was greeted by the Club President Mr Mick Money, along with 6 other club members.
Again photographs were taken.
The clubs press officer reported my walk to BBC Radio Lincs, who I gave brief details to. I understand BBC wish to talk to me again when I set off on my next leg from Grantham to Melton Mowbray.
I received the sum of £340 with a further amount to be donated shortly.

I have noticed on my journey how close the clubs are with each other, the friendships they have made over the years, and the respect for each other's efforts. Keep it up.
At Newark the junior membership is around 430 kids
Kesteven about  350.
Market Rasen and Louth. ?
I am already looking forward to the journey to Melton Mowbray and Syston.
My journey takes me from Melton Mowbray to Burrough on the Hill, where I will be visiting the New Matt Hampson Foundation Building which is named Better Living and is for those sportsmen who have suffered Catastrophic sporting injuries.
No doubt I will find it a bit emotional seeing these youngsters.
So the Matt Hampson Foundation will benefit so will the MBF who have pledged £2.6 million pounds to "Hope for Tomorrow " for 10 mobile Chemotherapy units.
One of which is based at Lincoln Hospital.
This Unit travels to Boston, Skegness, Louth, and Grantham and saves already poorly patients the arduous journeys traveling to major hospitals for treatment. This has already saved patients  in excess of some 2 million miles travelling.
So two very worthy causes.
I must thank John Wood of Rasen, who has been there for me at every twist a turn to ensure I was ok. Middle of nowhere he would appear. Taking me to my start point and picking me up at the daily finishing point.
I thank members of Market Rasen & Louth RUFC particularly Tony Smith, adding his weight to introduce me to other clubs. Secretary  Claire Fenwick , for taking my request forward, and not forgetting those who turned up in the freezing cold to see me off.
Thank you all
Best wishes
Arthur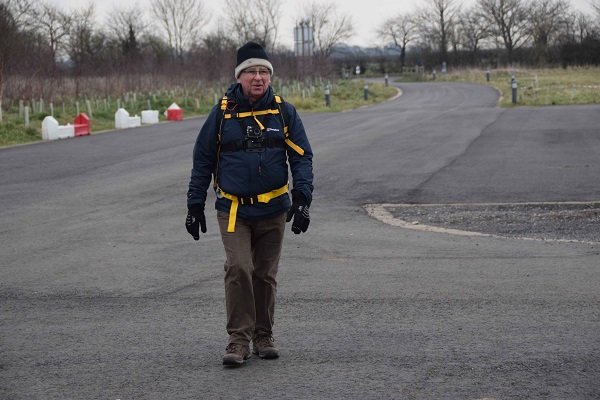 Striding Out Tuesday 6th February between Market Rasen and Lincoln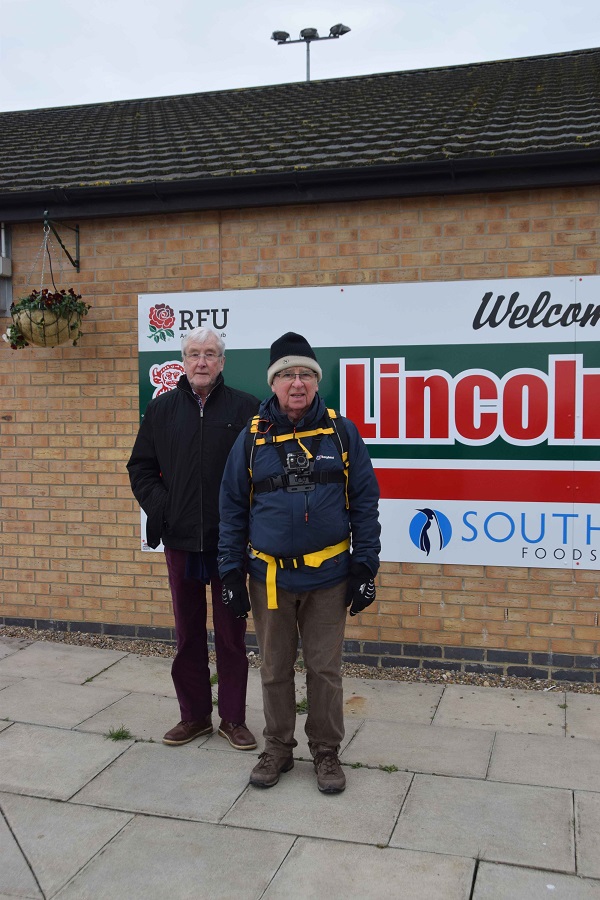 Arriving at Lincoln Rugby Club welcomed by W. Bro John Wood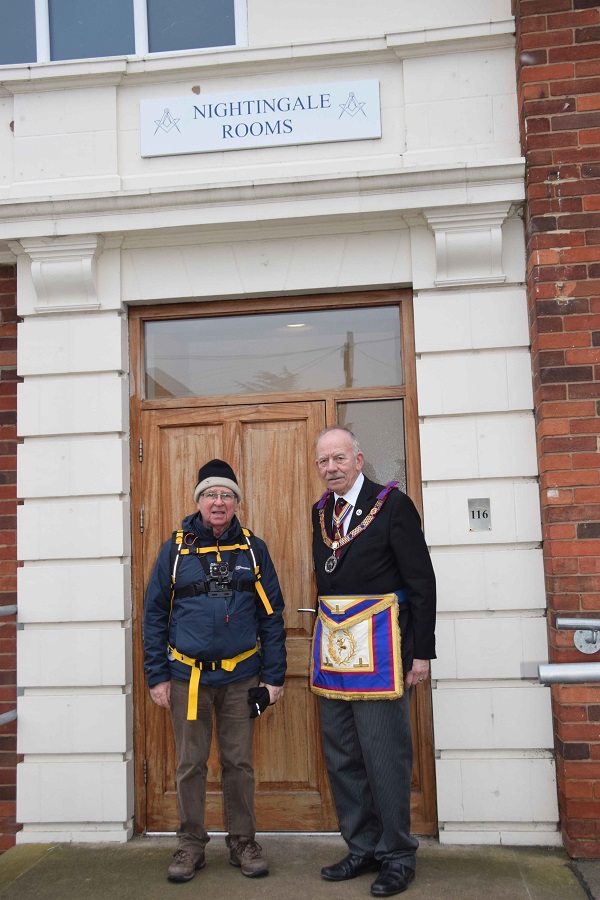 Welcome to Lincoln Masonic Hall by DPGM W.Bro Neville Storey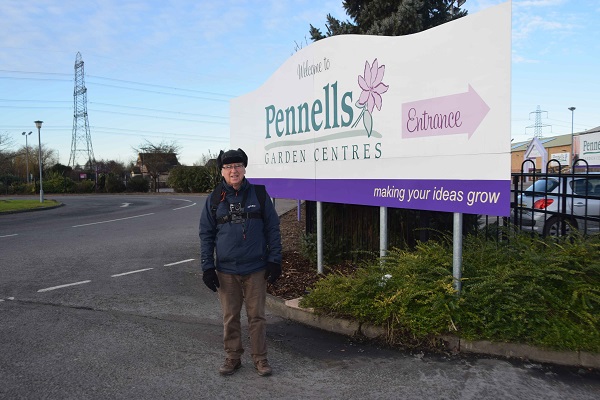 Wednesday 7th February Start again from Lincoln here pictured at passing Lincoln Pennells Garden Centre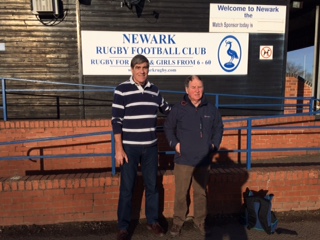 Arthur with President of Newark RUFC Mr Alan Swain, after competing Stage 2, Lincoln to Newark RUFC 8th February .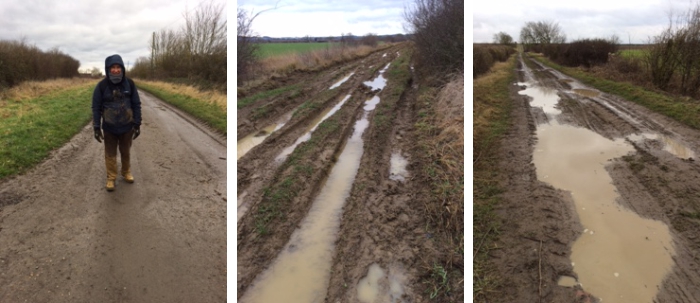 ---
A note from the Chairman of the MBF 2018 Festival Committee 
As the 2018 Festival end date of 7th July 2018 is rapidly approaching there is a need to ensure that all Festival merchandise and monies for the same are consolidated as soon as possible. If you have any pens, ties (both RAM and Mark) coasters, tokens, key rings, cufflinks or 2018 lapel badges, or the cash raised from selling these items, can you ensure it is passed over to Dave Wheeler at the Mark Provincial Grand Lodge on Saturday 24th March 2018 please? Dave will be looking after a table selling such items in the foyer of the Events Centre, Lincolnshire Showground and will be on site from 08.30.
---
I would walk 1000 miles update
Last year W.Bro Mick Stocker pledged, in the presence of Rt W Bro Trevor Walker, that he would walk a cumulative 1000 miles between 1st January 2017 and 31st December 2017, to raise funds for the 2018 Festival.
Mick also opened a sweepstake to win a bottle of whisky if anybody could estimate the total number of miles he would walk, and having complete his epic journey of 1355 miles, W.Bro Stephen Roberts came nearest with an estimate of 1342 miles.
Rt W Bro Trevor Walker was on hand to present the bottle of Johnny Walker Red Label to the lucky winner.
Congratulations to W Bro Stocker for completing the walk and raising £1122 for the MBF Festival 2018, and  to W Bro Roberts for winning the sweepstake. 
---
Support W. Brother Arthur Baxter on his Epic Trek!
At a young 75 years of age, W. Brother Arthur Baxter is planning a Sponsored Walk for the MBF 2018 Festival and the Matt Hampson Foundation.
All Masonic donations will go to the 2018 MBF Festival and any other donations, from rugby clubs etc. will be spilt 50/50 between the MBF 2018 Festival and the Matt Hampson Foundation whose aim is to provide advice, support, relief and/or treatment for anyone suffering serious injury or disability which has arisen from any cause, but in particular from participation in or training for any sport, sporting activity or other form of physical education or recreation.
Arthur is receiving great support from the local rugby clubs and also Premiership side Leicester Tigers where Arthur is a regular visitor.
How can you help?
Sponsor Arthur by pledging some money. Arthur's email address is:
            arthur.baxter832@btinternet.com
Meet and greet Arthur at any of the locations on his itinerary below.
Walk a few miles with him to show solidarity and to encourage him on his way
Planned Itinerary for Arthur:
6th February 2018
8-30 am, Market Rasen RUFC to Lincoln RUFC arriving about 2-30 pm

7th February 2018
Leave Lincoln at 8-30 am, to Newark RUFC arriving about 4pm

9th February 2018
Leave Newark at 9 am, to Kesteven RUFC (Grantham), arriving about 4-30 pm.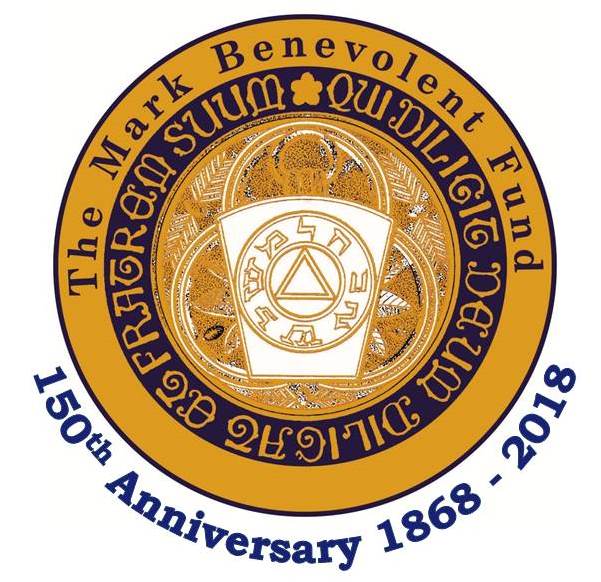 15th February 2018
Leave Kesteven at 9am to Melton Mowbray RUFC, arriving about 4pm.
16th February 2018
Leave Melton Mowbray at 10am to Syston RUFC arriving about 2-30pm.

17th February 2018
Leave Syston at 9am, arriving at Leicester Tigers about 12 to 12-30pm
---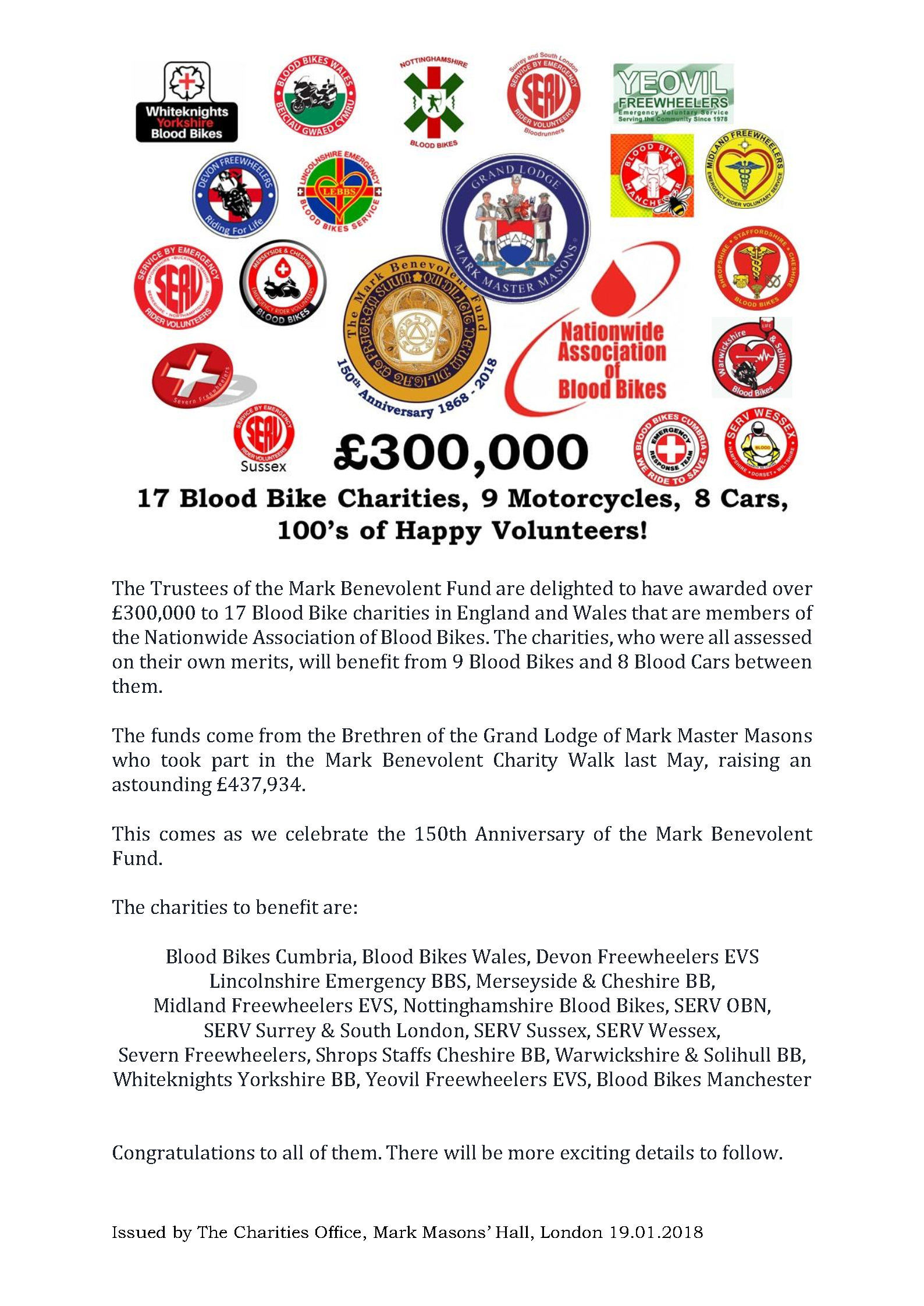 ---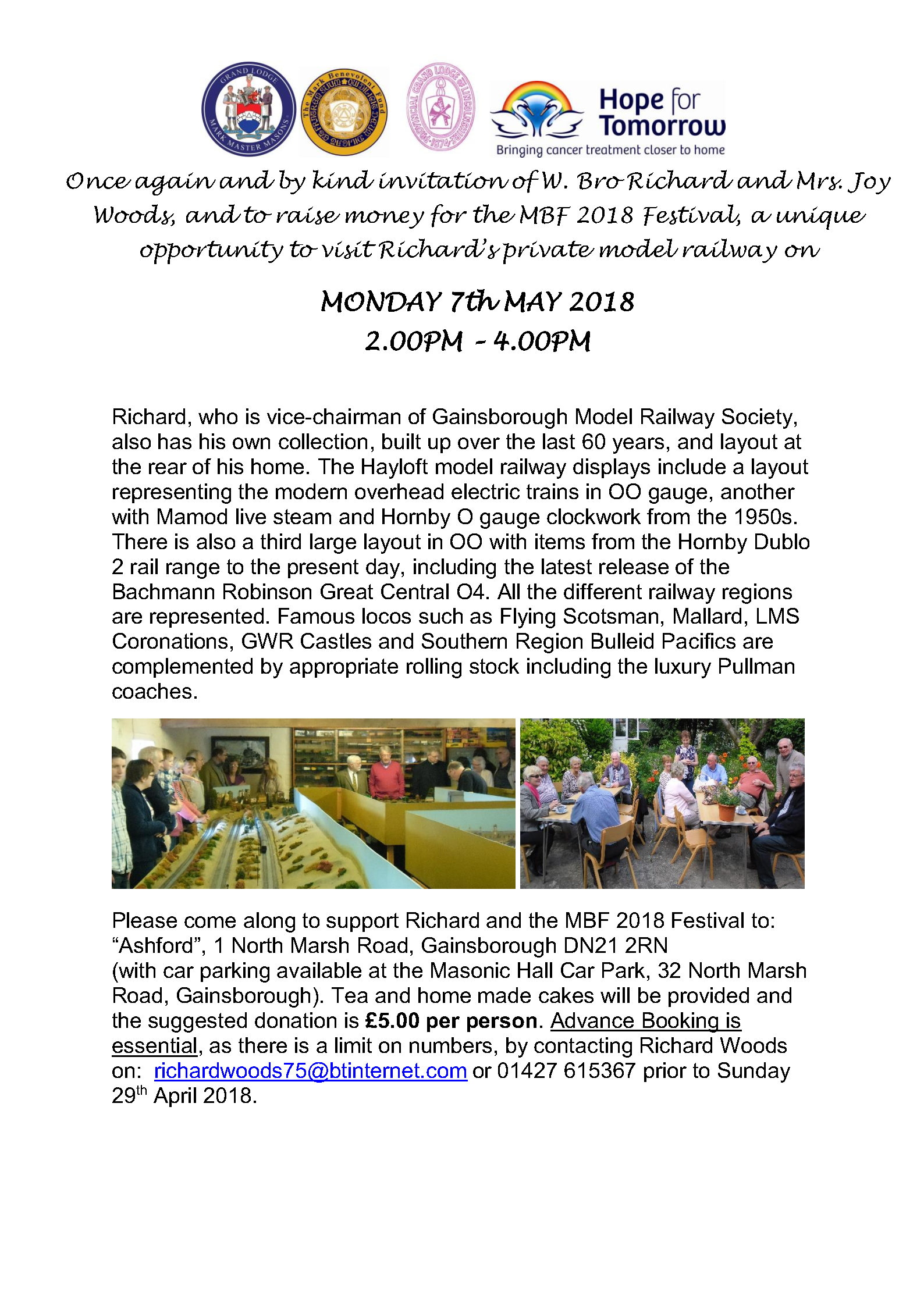 ---
St Wilfrid's MMM Lodge No 209 claimed the Gavel from St Oswald's MMM Lodge No 387 on 9th January 2018 
It was a great night with 58 brethren present. made up of 36 Member's and 22 visitor's 13 from St Swithin's MMM Lodge No 445 . 8 from St Wilfrid's MMM Lodge No 209 And 1 from John O'Gaunt MMM Lodge No 172 
The Prov Junior Warden was the Principal Guest and a member of St Wilfrid's MMM Lodge No 209
St Oswald Mark Lodge made a presentation to the prov Junior Warden of a check for £1000.00 to the 2018 festival 
There was an excellent presentation of the Mark Lecture by Junior and Senior Brethren which was well received by all present.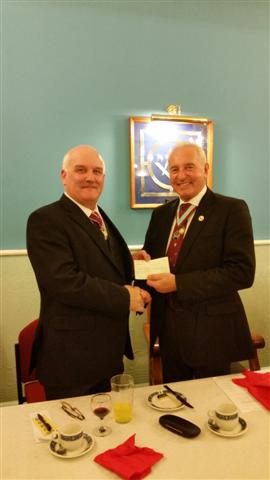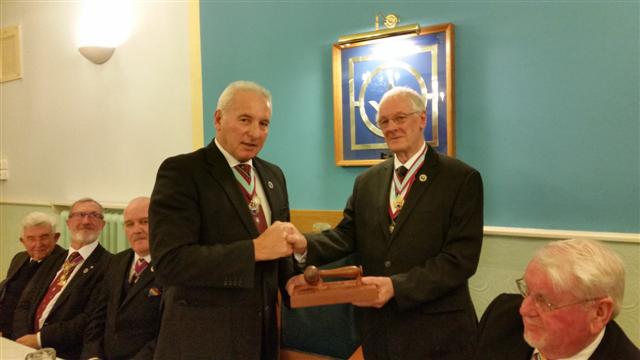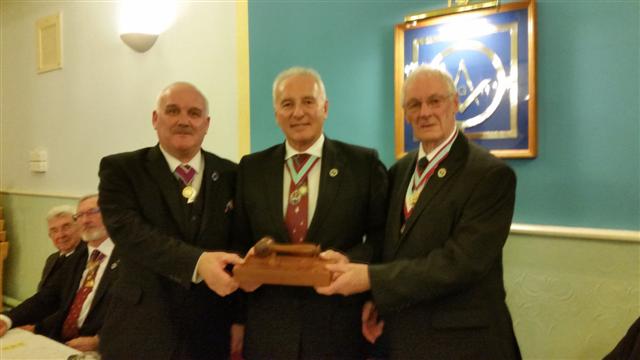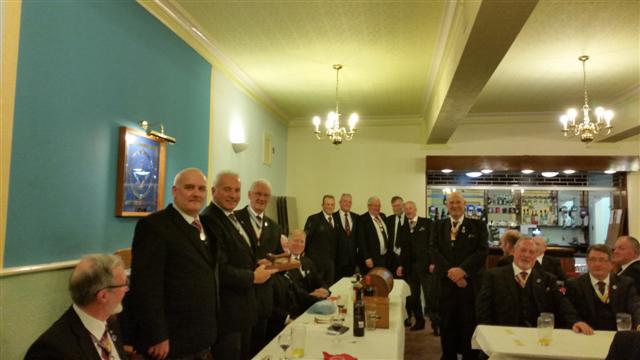 ---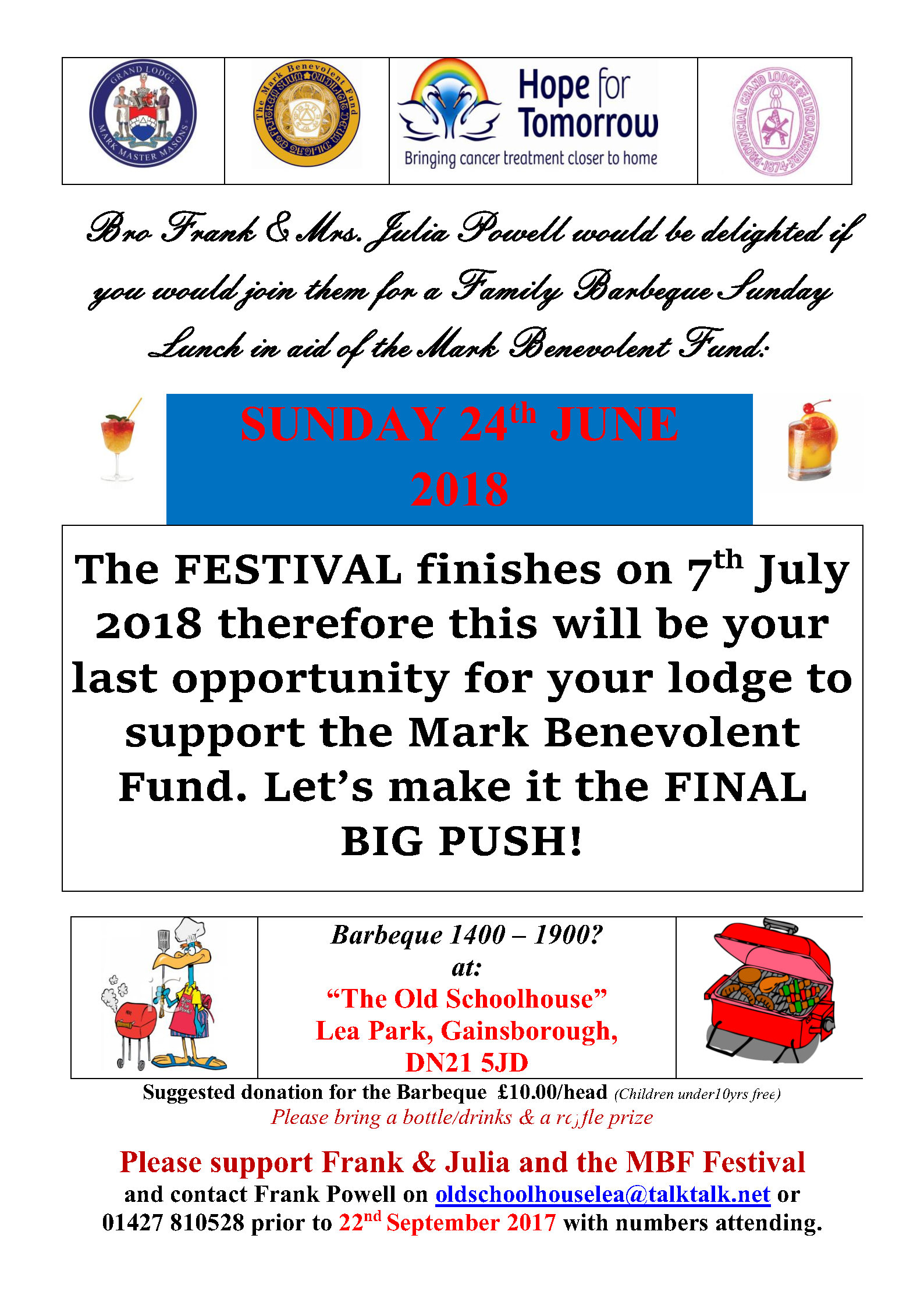 ---
Travelling Gavel and Sceptre
Both the Gavel and Sceptre are in the custody of the Mark & RAM lodges in Scunthorpe at the moment this is the first time I think that this is the first time they have been in the same masonic building a unique occasion as the both were the instigated by W.Bro Alan Birkett from the St Oswald's lodge in Scunthorpe.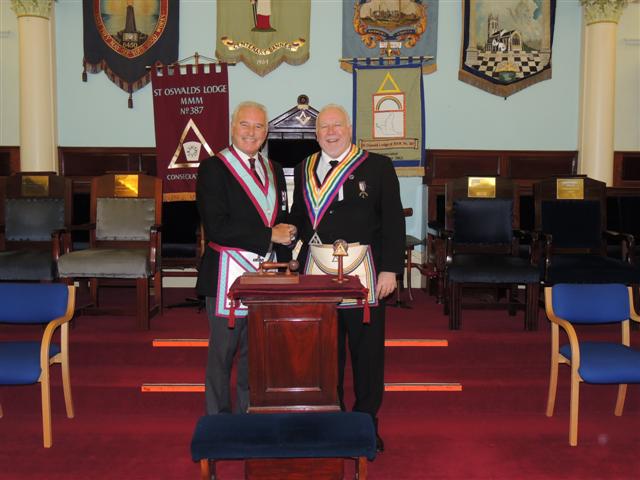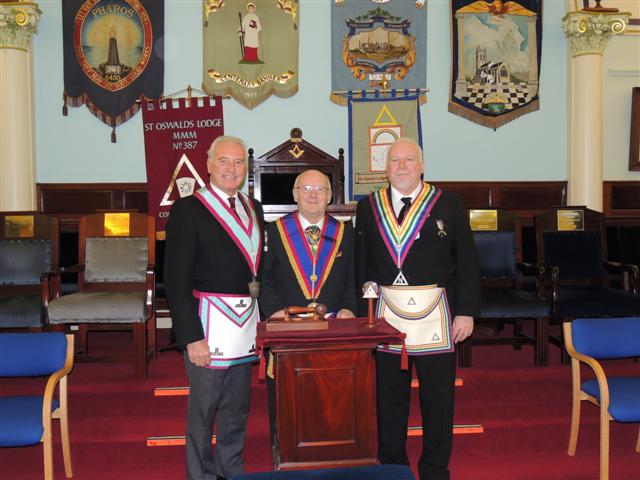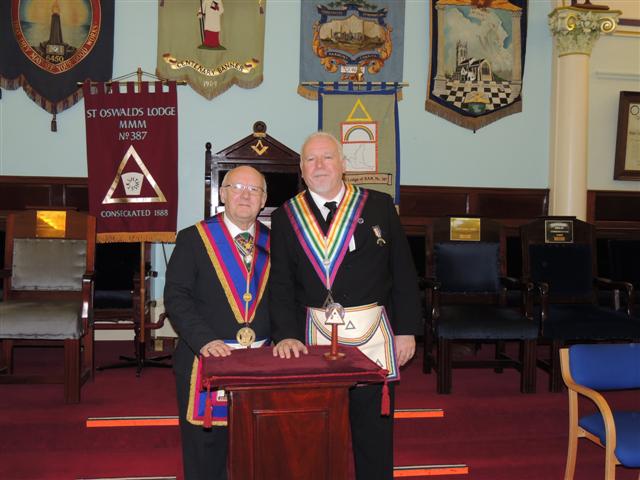 ---
The January Antiques, Fine Art, Silver & Jewellery Catalogue Sale - Lincoln - Lot 2196
To be sold on behalf of the Mark Benevolent Fund Charity
An early 20thC Continental silver Masonic crown wind triangular pocket watchAn early 20thC Continental silver Masonic crown wind triangular pocket watch, the mother of pearl dial decorated with various symbols, the case with similar decoration, sold with a silver watch chain and Masonic related fob, stamped Mexico 950. 
Raised £850 at auction. A tremendous sum towards the festival.
---
Royal Ark Mariner Grand Assembly
Steve Roberts celebrating at Connaught Rooms with some of the lads after receiving Royal Ark Mariner Grand Rank at the Annual Assembly.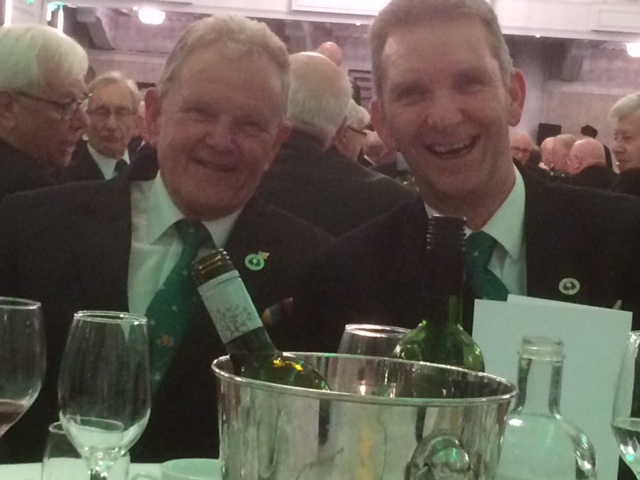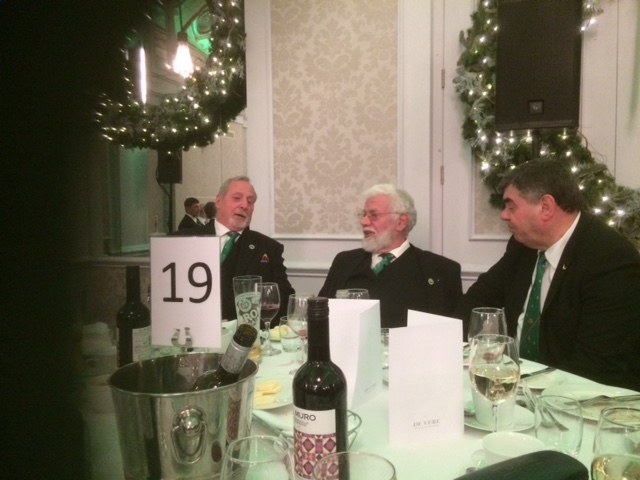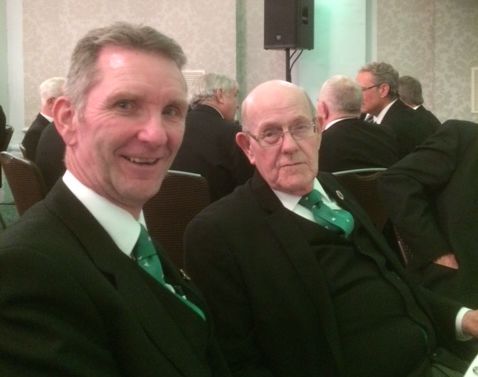 ---
Binbrook Christmas Carol Service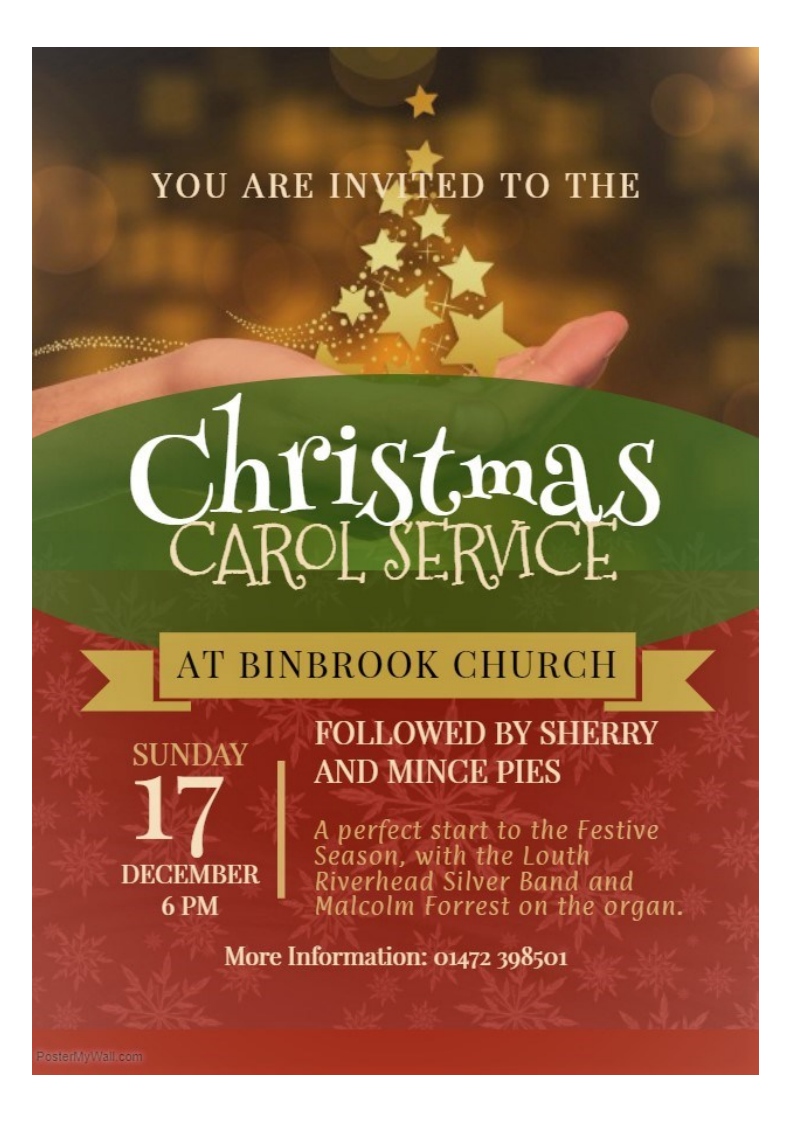 Letter of Thanks to the Brethren
Dear Sirs,
I just wanted to say how much the Mobile Chemotherapy Unit is appreciated, and to thank you all.
The service it gives is 'second to none' for local people. The Sister always has everything very well organised, and takes pride in caring for all patients' needs, both physically and emotionally. A Staff nurse works with her using the same expertise and kindness.
The two drivers (they take it in turns) Stephen and David are both helpful in the vehicle, as well as driving to Louth etc.
Thank you once again.
Yours sincerely,
An appreciative patient.
---
The Charity Hope for Tomorrow celebrates its 10th anniversary this year 2007 to 2017.
There are now 12 mobile units in operation and they have saved the patients 2.000.000 miles of travel and 170.000 hours of time.

Elaine, the Lincolnshire mobile chemotherapy unit  had its third anniversary in May of this year.

The unit now visits Lincoln Louth Grantham and Skegness, and has saved patients over 120.000 miles of travel and 10.000 hours of time. 
---
Spires and Steeples 1/2 marathon cross country challenge 
WBro  Geoff Burgoin  St Guthlac  ran the Spires and Steeples 1/2 marathon cross country challenge in October for the Festival. He Thanks all those who sponsored him.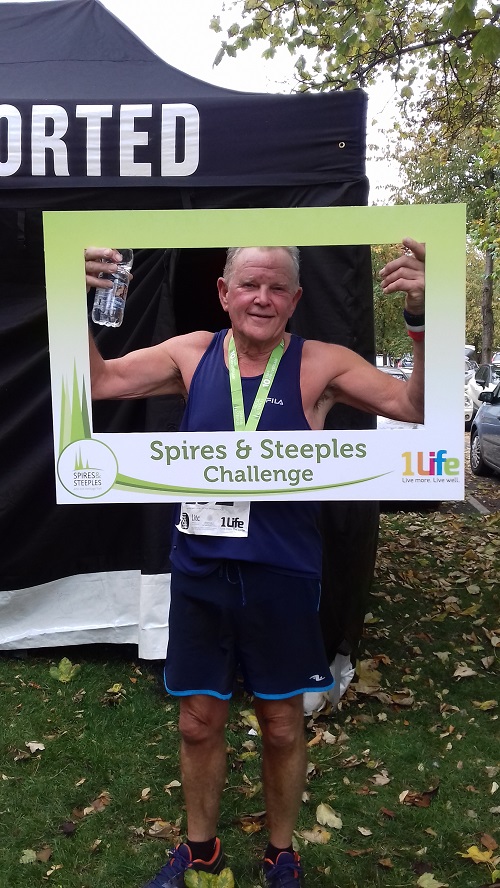 ---
Lincolnshire Mark Master Masons Prize Draw
 The September Prize Draw was held on the 5th October when the following were prize winners:-
 First Prize, £300.00         W. Bro. R. Hansard, Whitestone 1203.
Second Prize, £200.00     W. Bro. P. Needham, St. Swithun's 445
Third Prize, £150.00       W. Bro. G. Young, Whitestone 1203
Fourth Prize £100.00      W. Bro. W. N. Smith, St. Swithun's 445
Fifth Prize £60.00           W. Bro S. E. Siddle, Spurn and Humber 1199
Sixth Prize                      W. Bro. L. A. Darby, Urania 326
We have forwarded a cheque for £4,060.00 to the Festival making a total so far of £42,360 donated from the Draw.
£9,610.00 in total has been paid out in prize money so far.
Many thanks to all of you who are participating in the Draw we are very happy, as we are sure that you are, in the money raised so far.
---
I would walk 1000 miles.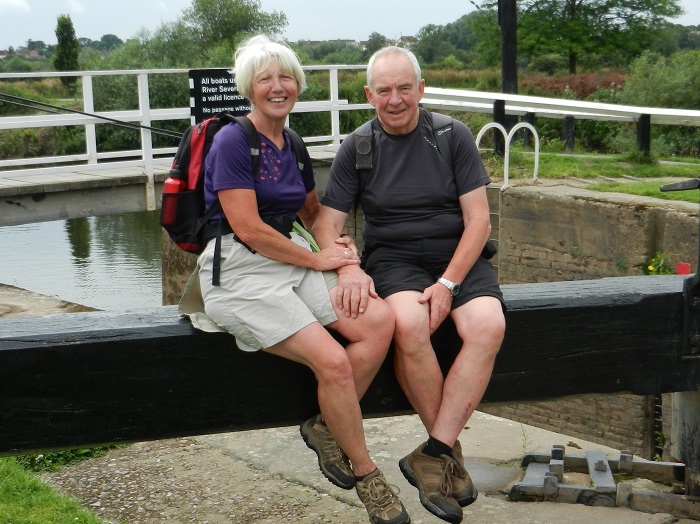 Last year W.Bro Mick Stocker pledged, in the presence of Rt W Bro Trevor Walker, that he would walk a cumulative 1000 miles between 1st January 2017 and 31st December 2017, to raise funds for the 2018 Festival.

On 13th September 2017, he walked the thousandth mile of his challenge with his wife Sandra at Barkston near Grantham. Sandra also completed the 1000 miles. During the year so far they have walked in Grand Canaria, India, Bulgaria and Slovenia outside the UK, whilst not only walking in Lincolnshire they have done walks in Nottinghamshire, Cornwall, Norfolk, Lancashire, Yorkshire and Cumbria.

The 250th mile was walked on 26th February at Scopwick, the 500th mile was reached on 24th May at Biscathorpe in the Wolds, and the 750th at Gainsborough on 27th July. A highlight was the 650th mile at Osojnica Mala, in the Slovenian Alps on 6th July.

The walking goes on and sponsorship is still open as the person predicting the final mileage on 31st December will win a bottle of whiskey.

So far £1087 has been raised for the Festival.

You can download a sponsorship form HERE.
---
Mark Benevolent Fund - Anniversary Festival
Friday 6th – Saturday 7th July 2018 - Assistance Needed
By now you all will be well aware of the forthcoming event at The Epic Centre, Lincolnshire Showground next July. These events take a great deal of preparation and as the Provincial GDC I am tasked with 'stewarding' the event, accordingly I am looking for volunteers to assist me.
The festivities start with a day trip to East Kirkby for the Aviation Heritage Tour on Saturday 7th July and our Festival Banquet being held at The Epic Centre, Lincolnshire Showground that evening.
In order to ensure that everyone attending these functions has an enjoyable time, we will need the assistance of some Festival Stewards throughout the weekend for a variety of tasks:-
• Greeting our guests with welcome packs at their hotels, which will be The Double Tree by Hilton, and the Holiday Inn which are both situated next to one another on Brayford Wharf. The Lincoln Hotel, Eastgate, the Holiday Inn Express, Brayford Park and The Bentley Hotel, South Hykeham and generally assisting with any queries that they may have.
• Helping our guests with their coach travel on the Aviation Heritage Tour on Saturday 7th July, and more importantly, ensuring they return from the tour on time!
• Marshalling guests onto their coaches for the short journey to The Epic Centre on the Saturday evening.
• A team of Stewards will be required at The Epic Centre to ensure the whole evening runs smoothly including car parking duties. For those who are able to assist at The Epic Centre and are not booked in to dine, a small buffet will be provided.

Brethren, your Mark Province needs your assistance and if you are available and willing to help, please do not delay and reply today by answering the following questions and emailing your responses to me:- korobinson43@gmail.com 07775556758 (mobile) or 01522 790807 (home)
1. Name?
2. Email address?
3. Mobile phone number?
4. Are you available to assist with greeting guests at one of the hotels on Friday 6th or Saturday 7th ?
5. Will you be able to act as a 'coach steward' for the Aviation Heritage Tour on Saturday morning?
6. Are you able to act as a Steward at The Epic Centre on the evening of 7th July?
If you would like any further information or wish to discuss anything connected with stewarding at our forthcoming Festival Weekend, please do not hesitate to contact me.
Thank you for your anticipated support and I look forward to hearing from you.
Yours sincerely and fraternally
W Bro Keith Robinson PGJD, ProvGDC
---
2018 MBF Festival - Banquet Update
Brethren,
The 2018 MBF Banquet will be held at the Lincolnshire Showground on Saturday 7th July 2018. The complete booking forms were circulated nationally on Monday 10th July 2017. Within the first week the two allocated hotels in Lincoln have become fully booked and details of three more hotels have now been released with the booking forms being update accordingly. This high level of demand is unprecedented and is fantastic news for the Province of Lincolnshire. However, the venue for the banquet is limited to 1,000 people so I urge everyone to consider booking their places as soon as possible to avoid being disappointed. Places will be allocated on a 'first come, first served' basis and a reserve list will be kept once the limit is reached in the event of any cancellations.
Download your MBF 2018 Complete Festival Forms Pack HERE in PDF format. 
Yours sincerely and fraternally,
Dave Wheeler
Chairman
Lincolnshire 2018 Festival Committee
---
Sponsored Bike Ride in aid of the Mark Benevolent Fund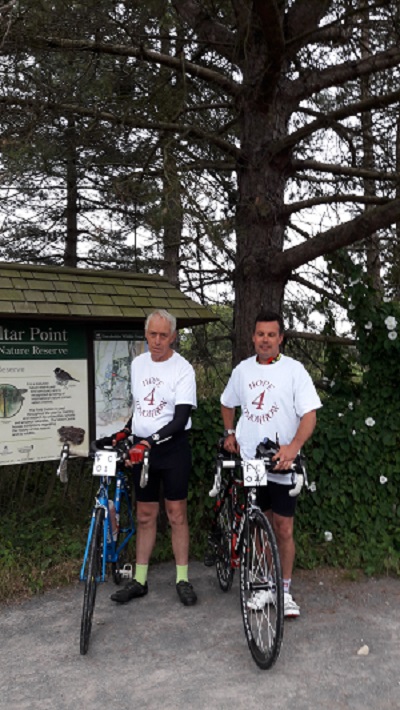 On Sunday last (9th. July) I took part in the Sponsored Bike Ride in aid of the Mark Benevolent Fund including the "Hope for Tomorrow" campaign to raise funds for mobile chemotherapy units. I was accompanied for the whole route by Brother John Priestley a member of Bayons Craft Lodge and hopefully a future candidate for Mark. The total distance we rode was just over 80 miles. We were joined at the viewing spot on the Bluestone Heath Road by W. Bro. Bob Marwaha who rode with us until we joined the Caistor High Street. From the Lodge in Market Rasen we were joined by Bro. Trevor Quincey who then cycled with us to the finish on the Trent side at East Ferry.
The day was nearly ideal with no significant wind and it remained dry but was perhaps on the hot side by the time we reached the finish. The two of us set off at 8.10 am from Gibraltar Point Nature Reserve symbolically as Fellow Crafts (see our bike numbers) having perhaps discovered the hidden mysteries of nature and science. We had to cycle into Skegness and out again as my original planned route proved to be a "No Through Road." We went through Croft and then keeping wherever possible on back roads made our way to the outskirts of Alford and on to the entrance of a quarry at South Thorseby where we stopped briefly and changed our bike numbers to represent workmen from the quarries.
Onwards and upwards to the top of Lincolnshire Wolds, down to Donnington on Bain and up again to the Caistor High Street before making our way to the Lodge in Market Rasen and a welcome break and some of Janice's sandwiches!
For the final leg of our ride we changed our bike numbers again to represent Mark Master Masons on our continuing journey in Freemasonry. Whilst this last part of the ride was relatively flat it was getting pretty warm and there was slightly more wind. We were quite relieved when we got to the shade of Laughton Woods and the final short run to the Trent side.
I must say a very big Thank You to W. Bro. David Pattison who took us and the bikes to the start, followed us on the ride providing much needed food and drink and then took us and our bikes home from the finish. The ride could not have taken place David without your support!
Also many thanks to John Priestley, Bob Marwaha, and Trevor Quincey for riding with me and to Janice Donovan are renowned chef for providing the sandwiches etc. at the Lodge.
I must also express my thanks to those who turned up at Lodge to welcome us and encourage us on our onward ride.

Now for the sting in the tail!
Please can I ask for sponsorship from any Mark and RAM Bayons members who have not already sponsored the ride. The cause is very worthwhile and it will of course count towards the 2018 Festival. I have raised just over £500 so far but it would be good if we could increase this substantially. As Charity Steward in Mark I have plenty of gift aid envelopes so that tax payers can tick the box and we will then get a donation from the government! For those that have already donated, I will find out how we can claim "gift aid" on those donations.

Finally I attach photos of John and myself setting off, at the Quarry entrance and of the three of us (including Trevor) at the Lodge and at the finish.

Kind Regards,

Edward Backus
---
 Final Countdown to the 2018 MBF Festival
Message from the Provincial Secetary, Steve Roberts:
Brethren all, after a successful Berkshire Festival, it's that time !!!
Please find link below to the booking pack for the 2018 MBF Festival (PDF format) which we as a Province are hosting - It is the 150th anniversary of the MBF which culminates in our celebration dinner at the Epic Centre, Lincolnshire Showground on the 7th July 2018.
We are expecting a high attendance and it is particularly hoped that the brethren of Lincolnshire will attend in good numbers to support both the Festival and our R W Provincial Grand Master who is presiding over the event.
Although it seems a long way ahead, it would obviously be helpful if you could book as early as possible to assist with the planning and arrangements.
We have 801 Mark Masons in our Province and it would be nice to see as many as possible attending the evening and perhaps even volunteering to assist in some way.
Here's to a great year and a fitting finale dinner next year.
---

---
 A JOURNEY THROUGH LINCOLNSHIRE AND A JOURNEY THROUGH MARK MASONRY
W. Bro Edward Backus has volunteered to undertake a sponsored cycle ride to raise funds for the 2018 Festival from the Bayons Lodges. (Mark & RAM)
He kindly undertook such a voyage for the last Craft Festival in 2014 and clearly didn't wear himself out - he's looking at riding around 77 miles this time !!
The ride will take place on Sunday 9th July starting from Gibraltar Point Nature Reserve at around 8 am. 
The proposed route takes him onto the Bluestone Heath Road north west of Alford, on to the Lodge at Market Rasen for around 12 noon then the final leg to the Trent side at East Ferry. Total distance is about 77 miles. W. Bro David Pattison has kindly offered to drive a support vehicle and we will hopefully have a mobile feed station at or around the viewing site on the Bluestone Heath Road. The second and main feed station will be at the Lodge where it is hoped there will be a good turnout of support! (We'll try and gauge an ETA when it's nearer the time).
Edward is calling the ride "A JOURNEY THROUGH LINCOLNSHIRE AND A JOURNEY THROUGH MARK MASONRY" and he's hoping to discretely pick up on some of the symbolism of the Mark Degree on route.
Others including Brothers Jon Moon and Trevor Quincey are joining him en-route, it remains to be seen if they go all the way.
Naturally if any other members or any members of other Lodges would like to join them on the ride they would be most welcome. Please contact Edward directly to make the necessary arrangements, (his email contact is below).
The main three riders above will be wearing white T shirts with "HOPE 4 TOMORROW" on the front in maroon so they should be easy to identify as they cycle along, anyone wishing to join them and wanting a T Shirt please contact Edward asap. 
Also further help / support on the route would be welcome especially organising snacks at the Lodge which will be the main feed station.
Hopefully appropriate photos will be taken along the route which could then go on the website once vetted! 
(a route map will be available shortly if anyone wants a more detailed view of the route).
Please support Edward and Co in their endeavours, if you would like to sponsor them please pledge your donation by email to either Edward or myself (address below) and then make your donation (preferably in the usual GAE's) to me by post (cheques only, no cash by post please) or in person.
My postal address is 35 Dovecote, Middle Rasen LN8 3UD; cheques payable to 'Bayons Lodge of RAM'. (I can supply the banking co-ordinates for online payments if preferred) We'll then issue a cheque from the 1365 Lodges and send the GAE certificates to the PrGrand Charity Steward in the normal way. 
Many thanks,
Neil Hollingsworth

Edward's email: edward.backus@virgin.net
My email: neilhollingsworth@btinternet.com
---
Tony Bennett at the Albert Hall on Tuesday the 27th June.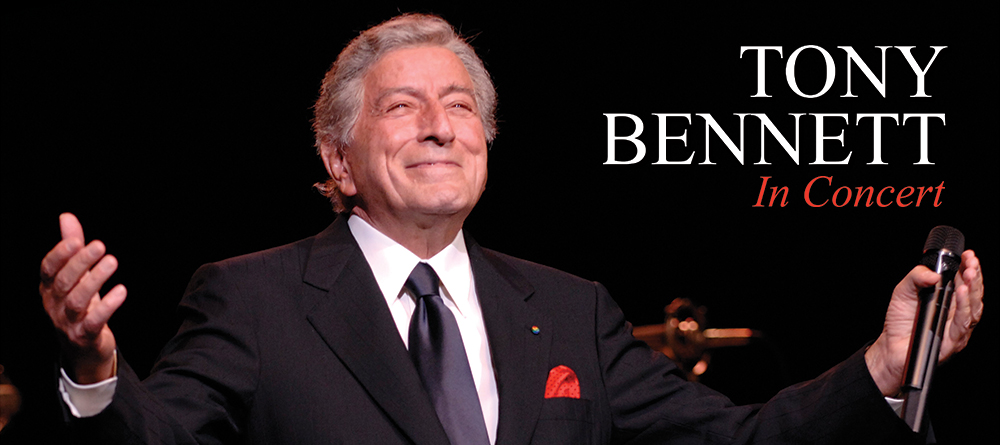 A member of St Guthlac Mark Lodge No.1122 is hospitalised for the next three weeks.
He has four tickets (Value £300.00) for the Tony Bennett concert at the Royal Albert Hall 8pm start on Tuesday 27th June 2017,  which he is not now able to use and he is willing to donate them to the highest bidder. Tony Bennett is a world-wide star who does not perform many concerts these days.... this is an opportunity for tickets which are extremely sought after...and rare!
The Brother is unfortunately unable to attend the event and has very kindly donated them and the resultant proceeds to the 2018 MBF Festival.
Can I therefore invite all brethren of the Province who might wish to go to the event to bid for the tickets.
BIDS ARE FOR THE 4 TICKETS TOGETHER AS A PACKAGE AND ARE FOR THE TICKETS ONLY - TRAVEL IS NOT INCLUDED AND SHOULD BE RECEIVED BY MYSELF BY E MAIL BEFORE 6 PM ON FRIDAY 23rd JUNE. 
e mail: lincsmarksec.sroberts@gmail.com
This will enable the travel arrangements to be made by the winner and also for the tickets to be collected and delivered.
Happy and successful bidding
---
 Mark Grand Investiture - Tuesday 13th June 2017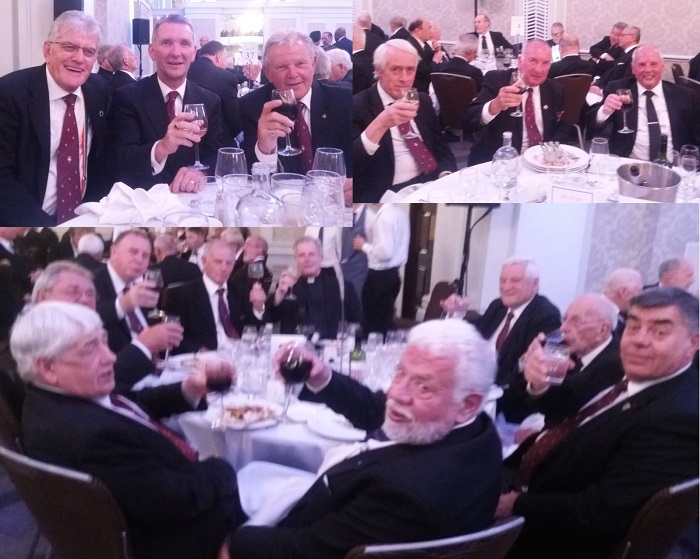 Over 50 brethren from our Province attended the Mark Grand Investiture. Many attended the meal afterwards and are pictured below. Nearly 30 brethren travelled down on the bus arranged each year by W.Bro Ray Wade and enjoyed a stop for a meal on the way back. If you have never been to this meeting before, please do try to go next year, when W.Bro Ray will no doubt be arranging another 'Grand Day Out'.
---
Notice from 
V W Bro John Clements, the Provincial Grand Charity Steward

The launch of the Lincolnshire 2018 will take place on the 8th July 2017 following the completion of the Berkshire 2017 Festival, culminating in our celebration dinner at the Lincolnshire Showground on the 7th July 2018.
It has been the practise of some Charity Stewards to delay any donations received at Lodge meetings and from individuals being forwarded on a quarterly/half yearly and in some cases on an annual basis.
 As we near the launch, it is requested that all charity donations for the 2018 festival be forwarded to our Provincial Charity Steward as soon as possible so that they may be accounted for and forwarded to Mark Masons' Hall, enabling them to be verified and recorded in a timely manner.
Any  delays may result in such donations not being so recorded which is the last scenario we would wish for.
---
The mobile chemotherapy unit celebrated its 3rd anniversary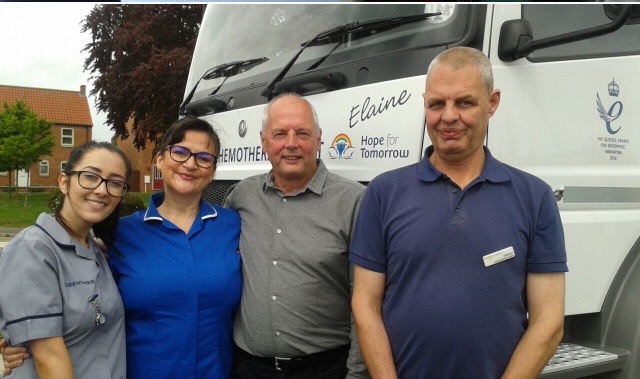 The mobile chemotherapy unit celebrated its 3rd anniversary on the 16th of May 2017 in Louth.

The day went really well and got good press coverage and lots of local interest,the unit has now been fitted with new smaller seats for easier working conditions for the nurses and more comfortable for the patients.

All the feedback from the nurses and the patients was very positive and the unit is being used to its full potential.
---
MESSAGE FROM OUR APGM
Dear Lincolnshire Mark Brethren.
I would like to thank all the brethren and their respective Lodges for the very generous donations to the Lincolnshire walk team, who 
took part in the MBF 2017 Charity Walk on Saturday May 6th.
The total amount raised at Mark Grand Lodge is to date  =  £382,881.01
Your Lincolnshire contribution is £12,506 which is absolutely amazing, I am astounded at your generosity and thank you most sincerely.
I know when speaking to brethren, as I travel around that some of you still intend to give to this event, which will further increase the amount raised. Considering that the event may initially have been cancelled due to lack of support makes it even more worthwhile, to make a donation before the closing date of
31st May 2017
.
As our Pro. Grand Master, Richard Victor Wallis stands down on
June 13th
, let's send him off on a high, with a really magnificent total raised for this MBF Charity.
Kind Regards as always
Ron Harrison H-R
APGM
---
IMPORTANT MESSAGE –  PLEASE READ
Brethren All,
You are all very aware the Lincolnshire Province is currently 'in Festival' for the Mark Benevolent Fund. Our Festival will culminate in a Festival banquet to be held at the Lincolnshire Showground on Saturday 7th July 2018 where the grand total of monies raised will be announced.
So far, the combined efforts of many Lincolnshire Mark Masons and Royal Ark Mariners have been an outstanding success and I would like to thank everyone for the wonderful support to date.
More importantly, the start of the final year of fundraising is almost here so please can I ask every Mark Mason and Royal Ark Mariner in the Province of Lincolnshire to support the Festival in every way possible. This may be by taking out a couple of shares in the Mark Draw; taking out a Standing Order for regular giving over the next year or by continuing to donate through the charity collection envelopes at the Lodge meetings. It may be through Lodge raffles, or by supporting the many events that are being organised in the next 12 months.
If you wish to arrange an event to raise money for the Festival then please do so; the ones that have been held so far have been a tremendous success and there is no monopoly on good ideas – if you think it will work then it probably will!
Please let's have one, big final push as the 2018 Festival enters the final year and support your Lodge; the Province of Lincolnshire and the Mark Benevolent Fund to make their 150th Festival a resounding success.
Yours sincerely and fraternally,
Dave Wheeler
Chairman
Lincolnshire 2018 Festival Committee
1st June 2017
---
 New Mark Province
Lincolnshire Mark Masons were proud to support the Isle of Man on the occasion of the creation of the 42nd Mark Province
The Pro Grand Master was in attendance at their first Provincial meeting.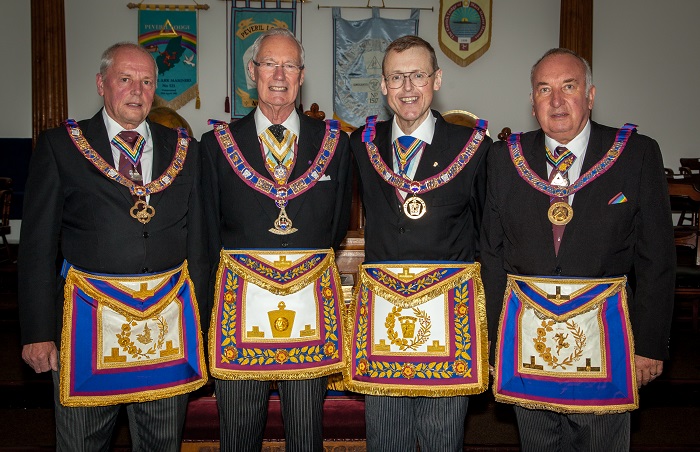 ---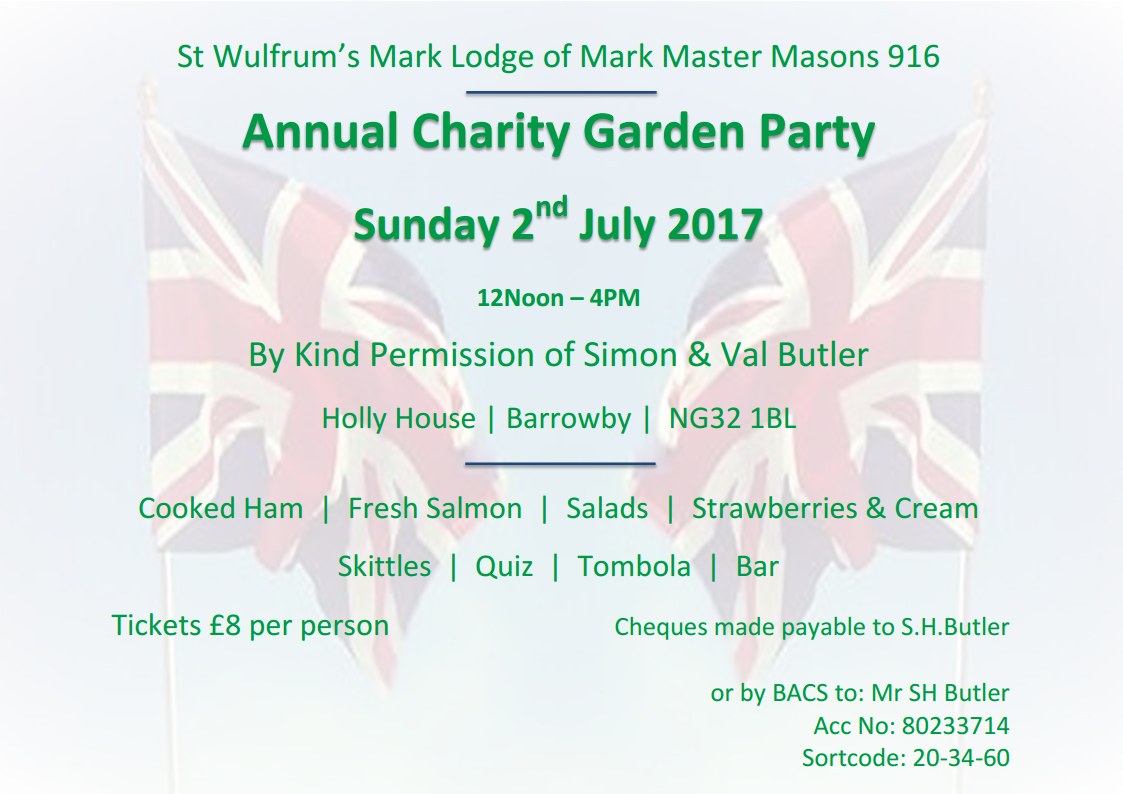 Bayons Lodge of Royal Ark Mariners Quiz Night
A quiz night on 12th May was staged by Bayons Lodge of Royal Ark Mariners (1365). Jeff Stephenson as the Worshipful Commander organised it, in round figures the attendance was 50 made up of members and their guests. The Lodge's caterer Mrs Donovan cooked the meal providing her services for free for the Festival; the evening with the raffle proceeds made £485.50 for the 2018 Festival.
The questions were taxing but based on absolute trivia, congratulations to the 'White & Stoned' team from Lincoln who won the quiz and showed that they were far more trivially minded than anyone else on the night!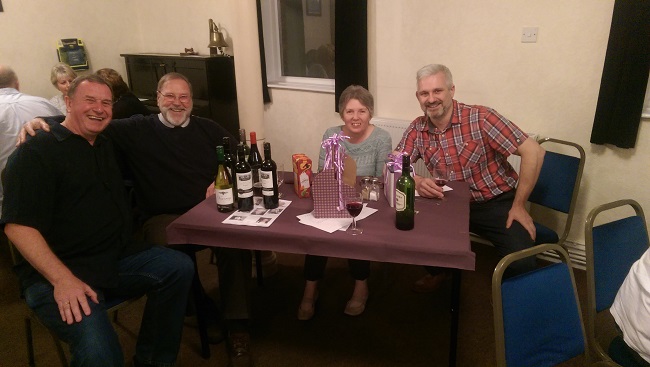 Below are the 'Wooden Spoon' team who won a meal for two (Pie & Peas)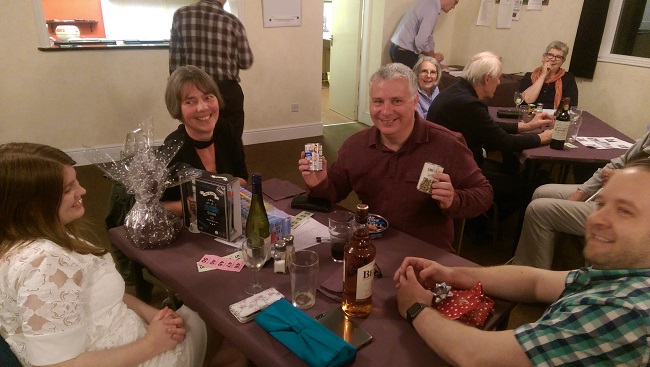 Special thanks to Mrs Donovan, pictured with below with Neil Hollingsworth and Geoff Stephenson (Worshipful Commander)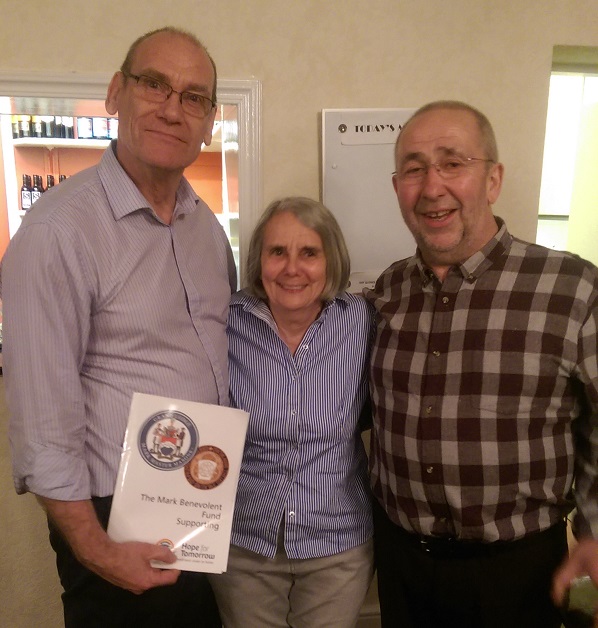 ---

Download form can be download HERE.
---
Mark Benevolent Fund Charity Walk 2017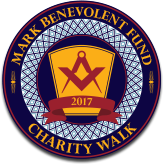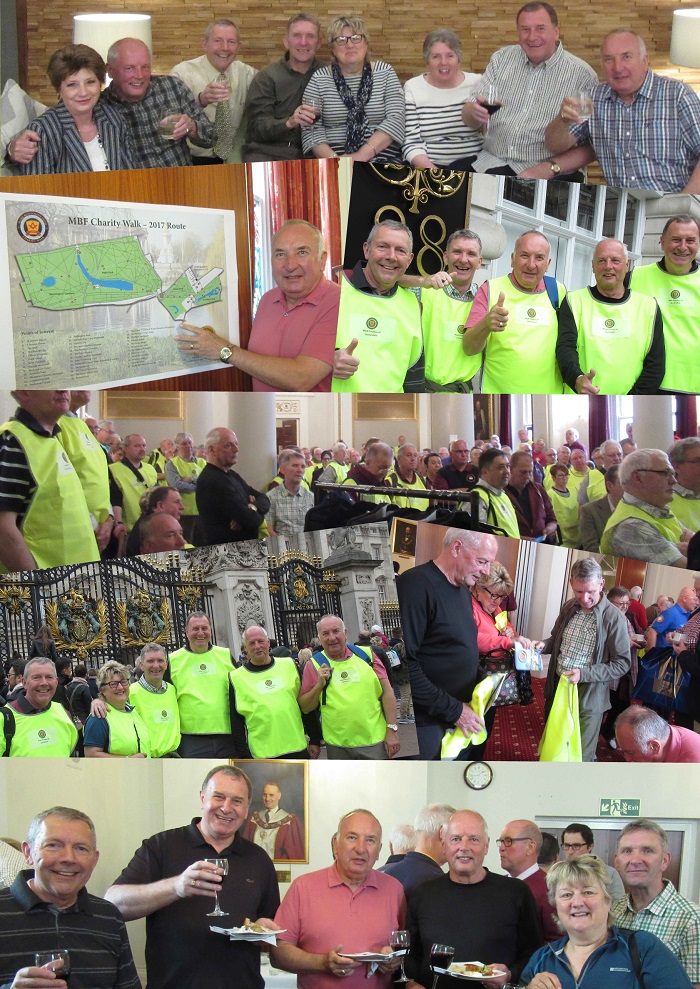 The Lincolnshire Province Team of Walkers, W. Bros Ron Harrison, Phil Anyan, Dave Wheeler, Steve Roberts and Bruce Goodman successfully completed the Mark Benevolent Fund Charity Walk. The walk was over a course starting at Mark Masons Hall around St James's Park, Green Park, Hyde Park and Kensington Gardens returning to Mark Masons Hall. Currently the Provinces taking part have raised over £324,000 for the Mark Benevolent Fund with Lincolnshire total at £6,819 and monies still coming in. The pictures show the Team in Training, preparing at Mark Masons Hall and the briefing, during the walk at Buckingham Palace and the Albert Memorial followed lastly by cooling down light training.
---


On Monday following the Provincial annual meeting at Lincoln, the attendance at St Guthlac Lodge of MMM was swelled to a total of just over 50 with visitors coming to claim the travelling gavel. It was successfully claimed by St Wulfram's Lodge of MMM with 29 x 10 brethren = 290 member miles beating off the challenge from St Botolph's Lodge of MMM with 27 x 7 = 189 member miles.
The next meeting of the St Wulfram's Lodge is on 26th October 2017......get your troops gathered to attend and make claim to that wonderful travelling gavel!
---
Provincial Grand Lodge MMM Lincolnshire 2017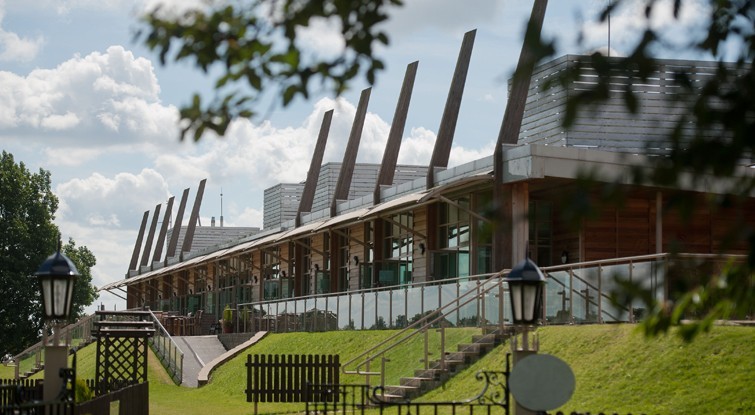 Another excellent day was enjoyed by a record number of Lincolnshire Mark Brethren and visitors to the Provincial Grand Lodge meeting for 2017 on SATURDAY 25th MARCH 2017 at the Epic Centre, Lincolnshire Showground, Lincoln.
Congratulations to our new Deputy PGM, W.Bro. Neville Storey, our new Assistant PGM, W.Bro Ron Harrison,  and all the brethren who received promotions at this meeting.
Rt W Bro Rev Trevor Walker looks forward to welcoming you all to next year's meeting.

Address to the Brethren at Provincial Grand Lodge, 25th March 2017, by Rt W Bro Rev Trevor Walker.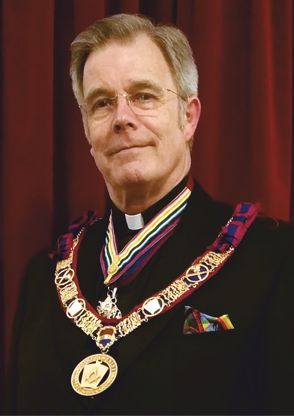 A most important business in all our Masonic Meetings is to welcome our guests. It is a tradition in other constitutions for guests to be formally introduced and presented to the Master after the lodge is opened. I am delighted that after our opening I was able to welcome so many guests to Lincolnshire. On behalf of the entire Province I welcome you again and trust you will have a happy day in Lincoln, a safe journey home, and a speedy return to join us again. I likewise extend the warmest welcome to the heads of other orders that meet in Lincolnshire.

This is the 143rd. Meeting of the Provincial Grand Lodge of Mark Master Masons of Lincolnshire and the third time we have met at the Epic Centre. The numbers attending and dining indicate this venue meets with your approval and so I welcome all the Lincolnshire brethren. It is very much your meeting and your Provincial Grand Lodge. I congratulate those I have appointed and invested to Provincial Grand Rank. Thank you for taking office and accepting all the responsibilities that go with the honour. I know you will work tirelessly for our lovely degree and I especially congratulate those appointed to Provincial Grand Rank for the first time. Honours are a reward for past service but also given in anticipation of future service. Thank you for what you will be doing!

I mention past service. I sincerely thank those who are stepping down from active office today. Change is inevitable and I have to admit change is something I dislike – but must happen. I thank those who now have stood aside to allow others the opportunity of serving in their place. I am sure they will support and advise their successors and will continue to serve the Province. Holders of past active rank are a great wealth in our Province and I thank them for allowing others to gain the same knowledge and expertise, which will assist us all in our work.

Change is also taking place at Grand Lodge. At the meeting of Grand Lodge on 7th. March M.Wor. Bro. Richard Wallis Pro Grand Master announced he would be retiring. He has led Mark Masonry in a most expert manner and I know we shall miss him. However I am pleased to tell you it is his intention to be present at the 2018 MBF Festival. The new Pro Grand Master will be the Deputy Grand Master R. Wor. Bro. Ray Smith, the new Deputy Grand Master will be the Assistant Grand Master R. Wor. Bro. John Prizeman and I am delighted that the Provincial Grand Master for Leicestershire and Rutland R. Wor. Bro. Stephen Davison who is present with us, is to be Assistant Grand Master. A new Grand Secretary and Grand Director of Ceremonies will also be appointed and invested.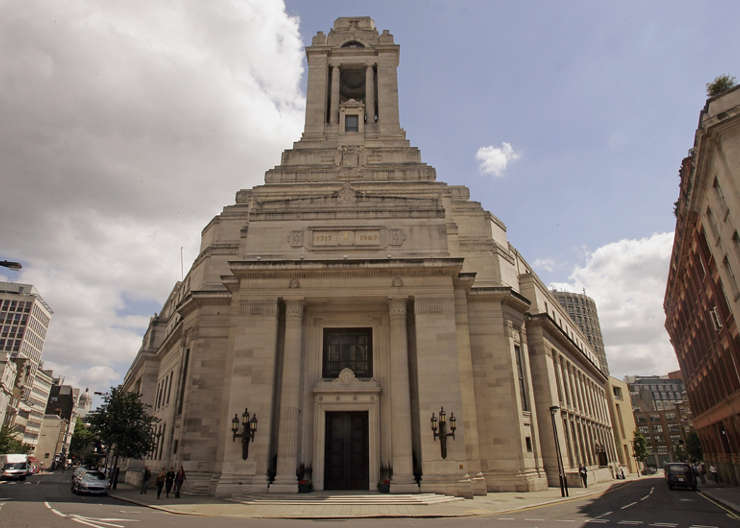 Last year many brethren from Lincolnshire travelled to Grand Lodge in London to witness the Grand Master appoint W. Bro. Dennis Berry Assistant Grand Inner Guard, W. Bro. Philip Anyan Grand Steward, W. Bro. Geoffrey Burgoin Past Assistant Grand Director of Ceremonies , and W. Bro. David Gentle Past Assistant Grand Sword Bearer. The Grand Master promoted W. Bro. Tony Greswell to Past Grand Senior Deacon, W. Bro. Bob Paterson to Past Grand Junior Deacon, W. Bro. John Winter to Past Grand Junior Deacon and W. Bro. Ron Harrison to Past Grand Junior Deacon.
W. Bro. Ray Wade will again arrange the coach trip to Grand Lodge. You will need to book early brethren as this Grand Lodge Meeting will be very heavily subscribed. There is to be the traditional celebratory dinner at Baldock for those travelling on the coach. If you have never attended Grand Lodge, then I do urge you to do so. It is always a most splendid occasion and you will be supporting your brethren from Lincolnshire receiving Grand Rank. The meeting is open to all Mark Master Masons and you can either travel on the coach and dine at Baldock, or join me and other brethren at the Connaught Rooms. Whichever you choose we guarantee a most enjoyable day.

I have referred to our visitors and visiting. Visiting is at the heart of freemasonry and I thank all those involved in Provincial visiting. I am grateful to the Provincial Wardens W. Bro. Trevor Knight and W. Bro. Mick Stocker for visiting every Mark and Royal Ark Mariner Lodge in the Province. I thank my Deputy and Assistant Provincial Grand Masters, and the Grand Lodge Officers who represent me at Installation Meetings. I thank the Provincial Team who have joined with me on five official visits. These have been uplifting events with nearly a one hundred percent attendance of Provincial officers. I thank those who have accompanied me when visiting other Provinces and when going to London for Grand Lodge. Without exception these have been enjoyable, happy occasions with new friendships made and old ones renewed.

All these visits are times when we experience the happiness of Mark Masonry. The warmth and hospitality of the welcome we receive when visiting other Provinces I hope is reflected in the welcome we endeavour to extend to our visitors today. I thank all the lodges of the Province for the generosity of their welcome to me, my representatives, and the Provincial Team when we visit them. Sharing with others is at the heart of masonry.

To encourage visiting between our lodges the Travelling Gavel has been chased all over the Province. The Past Assistant Grand Master produced some statistics to show that since the last Provincial Grand Lodge the gavel has travelled from Gainsborough, to Alford, to Boston, to Grantham, to Market Deeping. A total of 134 miles. In May 2015 it was held at St. Swithuns in Crowle – the most northerly part of the Province, and now is held in St. Guthlac Lodge Market Deeping. The most southerly part of the Province. The lodges holding the gavel often have attendances of over sixty or seventy brethren when a raid to claim the gavel is undertaken.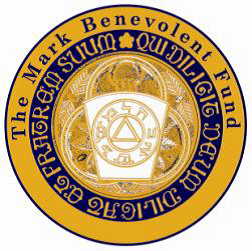 The concept of sharing with others is evidenced by our concern for charity. On 16 April 1868 the Mark Benevolent Fund was established at a meeting of Grand Mark Lodge held at Hull. The fund has continued to support needy Mark Masons and their families since that time. In addition numerous other worthy causes receive financial support. We are well aware of this in Lincolnshire with the Mobile Chemotherapy Unit Elaine being funded by the MBF. We are honoured to be hosting the 2018 MBF Festival here in Lincoln. The 150th. Anniversary of Mark Charity through the Fund.

I am indebted to the members of the Festival Committee under the chairmanship of W. Bro. Dave Wheeler for all the planning for next year. I am indebted to all the Lincolnshire brethren for their wonderful support of the festival and all the associated events. Barbecues, bike rides, model railway exhibitions, sponsored walks, quizzes, - the list goes on and on. The Mark Draw has raised thousands of pounds and it is still not too late to join. Have a word with W. Bro. Mike Robinson. Brethren by supporting the festival you are really practising your masonry. Charity.

Since the last meeting of Provincial Grand Lodge many brethren and lodges have received honorifics from the MBF. I congratulate Urania Mark Lodge No. 326 for being the first lodge in the Province to achieve Grand Patron Gold Award status. I am pleased to say others very soon matched them. It has been a real joy to present so many jewels to lodges and brethren this past year, but the real joy is your support for the MBF and the 2018 Festival. Please keep up the support for there are now only 468 days to the Festival!

We are very fortunate in Lincolnshire to receive the support of the Craft. I have already acknowledged the very generous donation towards the 2018 Festival received from the Craft Provincial Grand Master V. Wor. Bro. Graham Ives. I make no apology for saying thank you again and urge us all to continue this mutual support. It is vital we have a strong Craft for the future of our Mark lodges depends on attracting members from our Craft lodges. I encourage you to be active in your Craft Lodges and encourage the right men to take that next step into the Mark degree.

Meetings such as this require much work. The brethren of the Sutcliffe Lodge No. 188 and the brethren of the Lincoln Lodges have undertaken the local arrangements by preparing the lodge room, transporting furniture and all the preparations of these last few days. I thank W. Bro. Malcolm Forrest our Provincial Organist, not just for the wonderful music, but also for getting the organ here. He's not been in the best of health over the past few months so we are especially delighted to be able to listen to his music again. The Provincial Stewards and Directors of Ceremonies with their team have provided flawless choreography, and the Provincial Grand Secretary and his team have seen to their usual highly efficient arrangements. W. Bro. Craig Maurier the Assistant Provincial Grand Secretary has organised printing and we especially thank him for all his efforts. I especially thank those who will man the bar!

W. Bro. Provincial Grand Director of Ceremonies. Please conduct the Past Deputy Provincial Grand Master and Past Assistant Provincial Grand Master to me. V. Wor. Bro. John Board and W. Bro. Derek Bontoft. Brethren I now invest you with the collarette and jewel of a Past Deputy and Past Assistant Provincial Grand Master. I wish to thank you for the wonderful support you have given to me not just as Deputy and Assistant Provincial Grand Master but ever since I was appointed Provincial Grand Master. Your advice and guidance has been invaluable and I sincerely thank you for it. I also thank you on behalf of the Province for all your work on our behalf. Again I say this not just as Deputy and Assistant Provincial Grand Masters but also in the former offices you held in the Province and all the extra things you do. For instance the talks you both present in lodges are a wealth of knowledge. I therefore wish to award my certificate of merit to you both as a small token of appreciation and affection from myself and on behalf of the Province.

Brethren I am hungry and thirsty, our meal and drink await. Therefore without further ado I thank you for your attention, I wish you a happy Mark masonic year ahead, I look forward to working with you and visiting your lodges. It is a joy to serve as your Provincial Grand Master and may the Great Overseer bless, guard and protect you all.
Rt W Bro Rev Trevor Walker 
---

March Prize Draw 
We held the March Prize Draw at Sutcliffe Lodge on Friday 10th March when the following were winners:-
1st Prize - £300.00 -W. Bro. R. Edgar 
2nd Prize - £200.00 - W. Bro. J. Sharpe
3rd Prize -  £150.00 - W. Bro. R. Hansard
4th Prize - £100.00 - W. Bro. A. Downes 
5th Prize - £60.00 - Bro. D. Nicholson
6th Prize - £60.00W. Bro. C. J. Bloss
Prize money we have so far paid out amounts to £7,870 and the total so far sent to the Festival £34,608.
Thank you to all of you who are supporting the Draw and those of you who are not so far please join us, it goes towards your Honorifics and IF YOUR NOT IN IT YOU WON'T WIN IT!
---
Grand Mark Lodge Annual Investiture
Freemasons' Hall, Great Queen Street, London
1.00pm Tuesday 13 June 2017

The annual coach trip has been organized for the Grand Mark Annual Investiture on the above date. Each year the Province is well represented at this meeting to support those being promoted or receiving their first appointments.
All Mark Master Masons may attend, and those who have never been to Grand Lodge are particularly encouraged to attend this splendid occasion.
A full itinerary is below together with costs.
Travel Details
Outward:
07.15hrs Depart Eastgate Car Park, Sleaford, (behind The Mallards, NG34 7DJ)
08.00hrs Arrive Asda Supermarket, Union St., Grantham, NG31 6NZ
08.45hrs Arrive Premier Inn, Norman Cross, Peterborough, PE7 3TB
09.30hrs Arrive 'The Templars Hotel and Carvery', Baldock, for 'Bacon butties'
10.15hrs Coach leaves for London
12.00hrs Arrive Freemasons' Hall, Great Queen Street, London
Return:
16.15hrs Leave Freemasons' Hall
18.00hrs Arrive 'The Templars Hotel and Carvery', Baldock, for evening meal
19.45hrs Leave Baldock
20.45hrs Arrive Norman Cross
21.30hrs Arrive Grantham
22.00hrs Arrive Sleaford
(Note: Times approximate only)
Costs:
The cost depends on numbers travelling on the coach; with a full coach this would be approx. £50; this includes travel, bacon buttie on outward journey and 3 courses evening meal on the return journey but excluding drinks. The Past Deputy Provincial Grand Master will preside at the Festive Board.
Please contact W. Bro. R. Wade, PAGDC, RAMGR, if you wish to attend or for further information.
Download the Booking Form HERE
---
The Worshipful Master of St. Guthlac Lodge of MMM No.1122, Bro David Clark claimed the gavel from the St. Wulframs Lodge of MMM No.916 on Thursday 23rd February 2017.
Three Lodges attempted to claim the gavel, with Nene Lodge having 98 member miles (number of members attending x the distance between the two lodge centres), St Botolph's Lodge having 217 member miles and St Guthlac winning the gavel with 406 member miles.
St Guthlac's next Mark meeting is on Monday 27th March 2017 .....they welcome brethren wishing to make claim.
---

SPONSOR FORM FOR FESTIVAL EVENTS
We are fast approaching the last year of the 2018 Festival and I know many people will want to organise and complete events that attract sponsorship. In addition to the 'My Donate' online facility that can be used, many people prefer to use a paper sponsorship form. Please find below a link to a sponsor form that can be used for any sponsored event for the 2018 Festival, including collecting money for the 2017 MBF Parks Charity walk in which Lincolnshire have entered a team. Please contact me if you have any queries on who to send the completed forms and donations to. With thanks and good luck!
Dave Wheeler, Chairman 2018 Festival Committee, email: davewheels@tiscali.co.uk or mobile - 07771 657449.
Blank Sponsorship Form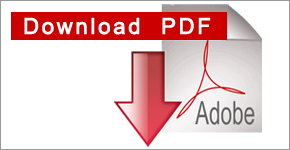 ---
MBF CHARITY WALK 2017
The Mark Benevolent Fund is dedicated to bringing relief and support quickly to Mark Masons, their families, and others who for nearly one hundred and fifty years have received aid from this wonderful charity. Now the Province of Lincolnshire is delighted to show its support by fielding a team to take part in the MBF Charity Walk in London on 6th. May.
The walk will follow the Diana Princess ofWales MemorialWalk covering seven miles through four Royal Parks. It is the first time the MBF has organised a national fund raising event of this kind.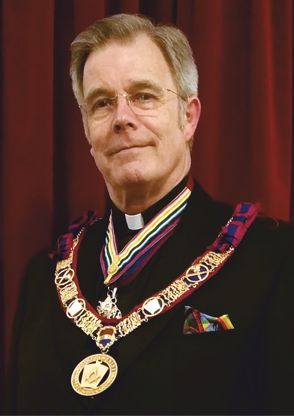 Rt W.Bro Rev Trevor Walker said
"I am very grateful toW. Bro. Ron Harrison for agreeing to organise and lead the team of five walkers from Lincolnshire on my behalf. This event provides a wonderful opportunity for us to raise funds for the MBF and so help others. The full details of how to do this are available on the web site.
I am certain Lincolnshire will rise to the challenge and you will support this venture by sponsoring theWalk Team and by clicking the "Donate" icon on the web page. Your donation can be credited towards a personal MBF honorific and to our 2018 Lincolnshire Festival.
Good luck to the Team!"
For further details and to make your donation click HERE
or go to 
http://mbfwalk.org.uk/index.php/donate/provinces/lincolnshire
---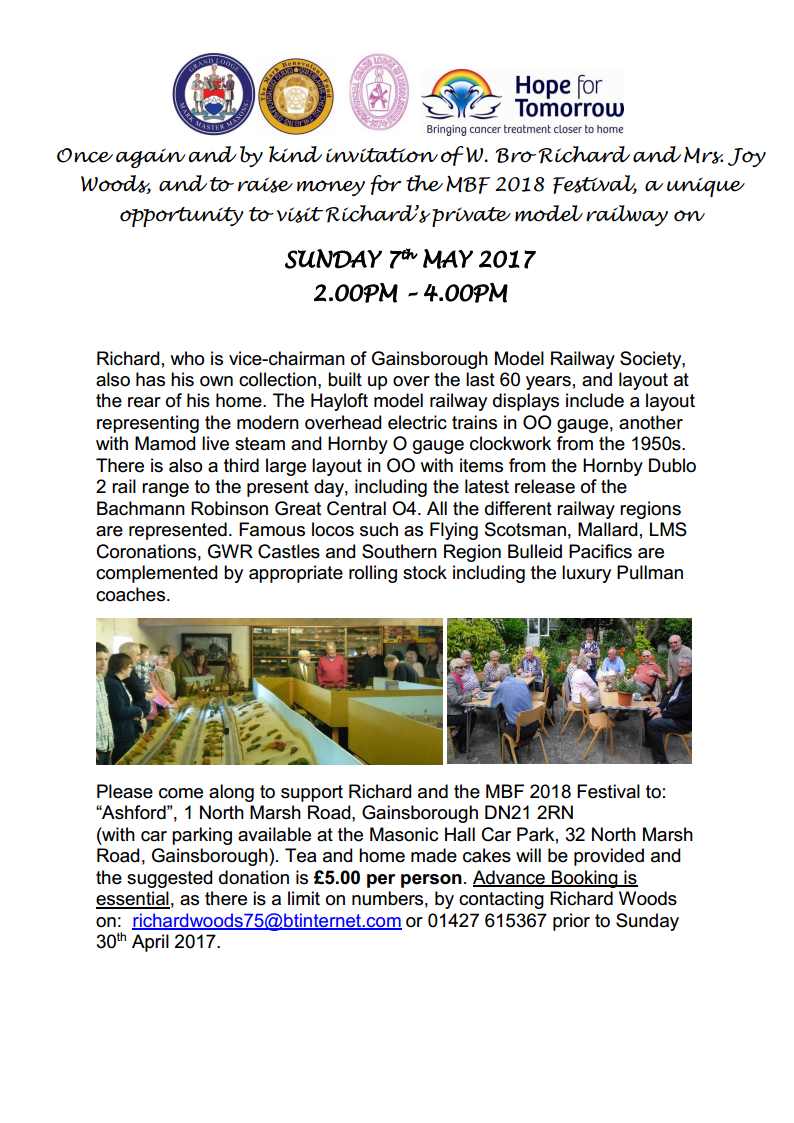 For those who haven't been to the previous open days, it is well worth a visit and Joy's cakes are to 'die for'! For those who have been before, I'm sure they will want to go again as it is a lovely way to spend a Sunday afternoon. Family and friends are most welcome.
---
COASTLINE QUIZ SHEET

Many thanks to all those who bought a quiz sheet and especially those who sent in a completed answer sheet. I hope you all enjoyed the challenge and didn't lose too many hours sleep….or too much hair!
There were 27 entries sent in and just two which were totally correct.
The two which submitted perfect answer sheets were Mrs Joy Geelhoed, Boston and Bro Chris Rimmington, Hull. A draw will now take place to determine the winner at the Team visit to Alexandra Lodge of MMM No. 1230 at Long Sutton on 24th January.
I will send a copy of the answers (with explanations), together with the answer sheet submitted to everyone who sent in a sheet.
Apologies…..But there is another one to be issued soon, which will be distributed to lodges at Provincial Grand Lodge on 25th March… this time with answers of Castles in the British Isles!! Happy searching.
Derek Bontoft
---
The Lincolnshire Mark Master Mason's Prize Draw
The organising committee of The Prize Draw would like to thank all of you who are members of The Draw for your continued support, and those of you who have joined recently for doing so.
The Draw is a very satisfactory way of supporting the Festival. Not only does it enable you to partake in the quarterly draws, which we make at various venues in the Province but it also enables you to give Gift Aid, if you qualify. It is, therefore, a win-win method of giving.
Since the Draw began in January 2014 our numbers have climbed to 305 and the prizes have also increased from three prizes of £100, £70, and £60 to six prizes of £300, £200, £100, £60, £60, and £60 paying out a total of £7,000 so far.
Furthermore they will be increased again, at the next draw in March, to £300, £200, £150, £100, £60, and £60. The more members we have the higher the prize money will be.
In the same period we have passed on £30,832 to The Festival.
If you do not already have a number, or would like more, there is an application form and standing order on the web site at the bottom of the list under "FORMS". Why not complete one today and submit it?
IF YOU'RE NOT IN IT, YOU WON'T WIN IT!
 Lincs MMM Festvial Draw application form and a standing order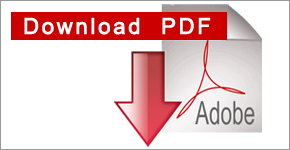 ---
Submenu