Latest News
COVID- 19 SUSPENSION LIFTED 29th July 2021
Dear Sir & Brother
I am most happy to announce that the local suspension I was forced to impose in Lincolnshire earlier this year will be lifted with effect from midnight on 31st August 2021. This means we can ALL start to resume our most happy of Masonic Orders , our Mark and Royal Ark Mariner Masonry.
I attended my first face to face meeting yesterday evening albeit in a different Order and it was wonderful to share the company of Brethren I have not seen since March 2020. Suffice it to say it was a most enjoyable experience.
The reason I am giving in effect a month's notice is to allow Lodges to prepare themselves for forthcoming necessary Installation/ Proclamation ceremonies to get us back on a path to recovering from the dreadful pandemic which is at last showing signs of abatement. What I ask is that everyone proceeds with caution- not everyone will be quite so keen to get back to normal as I am! Be thoughtful of other's concerns and accommodate them whenever possible.
Always be aware of restrictions still in place issued by the government or Masonic directives, these are all designed for our welfare.
We have much ground to make up and have lost through deaths many good Mark men. I encourage you to promote our happy and friendly Order as we look forward the future.

May the Great Overseer of the Universe Bless you All
Mark well.
Provincial Grand Master
---
2021 Q2 Prize Draw 
The winning numbers for the 2021 Q2 Prize Draw have been drawn and the lucky Brethren on this occasion are :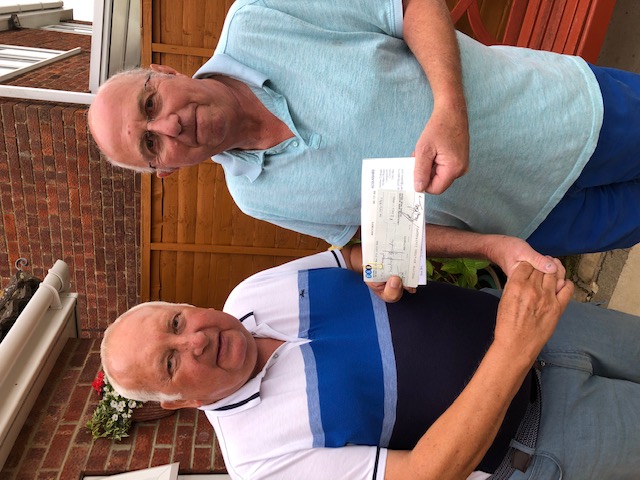 Amount  Ticket No. Name                 Lodge
First         £200.00      74           John Stead         Bayons
Second    £150.00      97           Chris Fletcher    St Matthews
Third       £100.00     156           Roger Ward      Spurn & Humber
Fourth     £100.00       55           Paul Darlaston  St Wilfred's
Fifth          £50.00      263          Geoff Tuckett    Urania
(Left) DPGM W. Bro Ron Harrison presents a cheque to W.Bro John Stead
You've got to be in it to win it!
Many congratulations to these Brethren and continued thanks to them and all the Brethren who participate in the Provincial Prize Draw, which continues to give great support to the Province and our Charitable giving.
Any Brother who is not currently a member of the draw and wishes to take part should contact W. Bro. Andy Carr, the draw Administrator, or the Provincial Grand Secretary, W. Bro. Steve Roberts for further details.- stay lucky.
---
10 Things to think about
Brethren, I am delighted to advise that the series of talks given by V.W. Bro. Derek Bontoft is to continue and the next one will take place on;
 Tuesday the 27th of July at 7pm via zoom
I am sure that those Brethren who have logged into the earlier talks have appreciated the work and preparation that Derek has put into presenting them and have also enjoyed them immensely and I would urge those who have not yet done so, to join in this event.
Topic: 10 Things to think about
The necessary zoom joining instructions are available from your lodge secretary.
---
 Royal Ark Mariner Provincial Grand Rank Appointments for 2021 
Provincial Grand Master is delighted to confirm the Royal Ark Mariner Provincial Grand rank appointments for 2021 which despite the postponement of the Provincial Assembly are effective from the 5th of June.
Many sincere congratulations to the recipients on their deserved preferments and it is intended that the appointments will be ratified at the proposed combined Mark Provincial Lodge / Royal Ark Mariner Assembly scheduled to take place on the 11th of September at Skegness.

---
 
STONES
On Tuesday 18th May 2021, forty brethren from around the province enjoyed an entertaining and informative Zoom presentation by our Provincial Grand Lecture Master, VW Bro Derek Bontoft, entitled "Stones.
The talk discussed the ancient and modern uses of this versatile substance, upon which our masonry is founded.
At the start of the meeting there was doubt that Derek would be able to give the talk because of a problem with the audio on Derek's new laptop. After a short while, whilst the brethren caught up on local masonic chat, Derek was able to dial in to the meeting to give his talk, much to the relief and delight of the assembled brethren pictured below.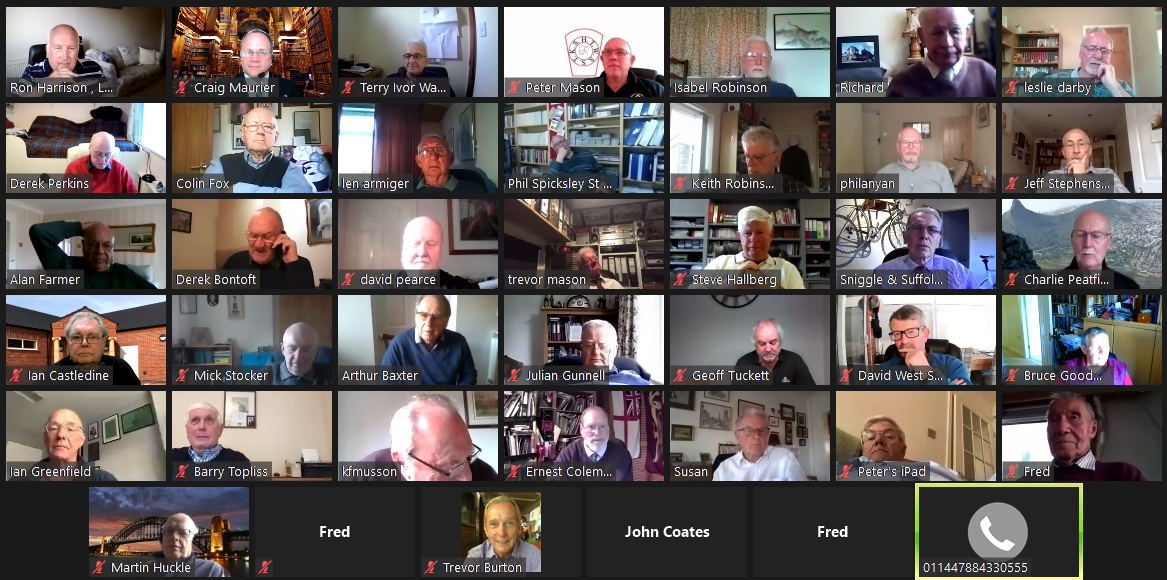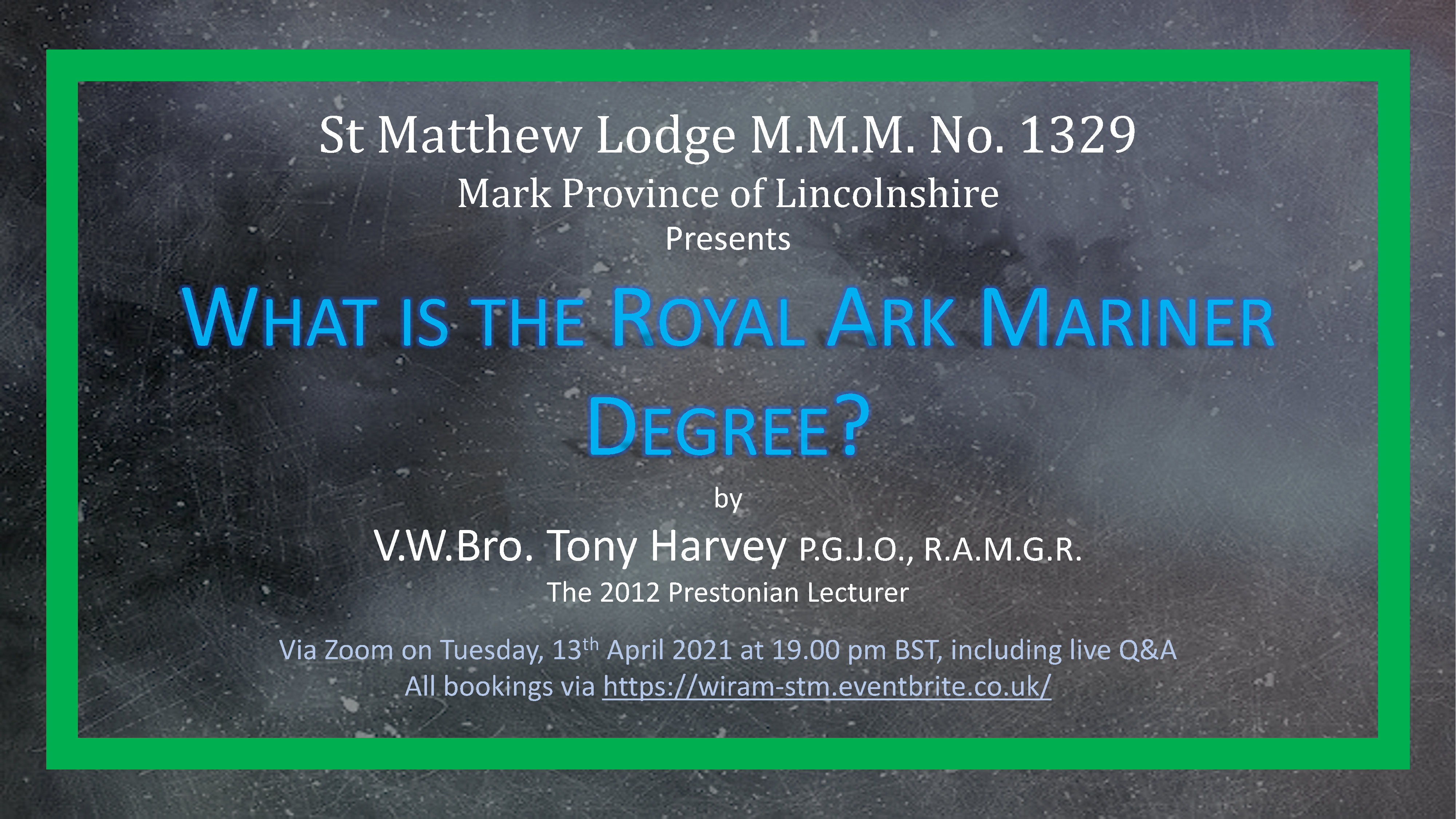 ---
HRH Prince Phillip, The Duke of Edinburgh

We mourn the sad death of one of our own - RIP Sir, Thank you for your service to our Queen and Country, calm seas and fair winds,
Sincere condolences to her Majesty The Queen and the rest of our Royal Family.
---
Lincolnshire Grand Lodge Appointments
On behalf of our Provincial Grand Master, I am pleased to advise that the following appointments have been made by Grand Lodge for 2021 in respect of Lincolnshire Mark Brethren.
Re- appointments
W. Bro. Chris James (Earl of Scarbrough Lodge no.1032) to Grand Senior Deacon
W. Bro. Geoff Tuckett (Urania Lodge no. 326) to Assistant Grand Inner Guard
W. Bro. Peter Dolby (St. Guthlac's Lodge no. 1122) to Grand Steward
Promotion:
W. Bro. Ron Harrison, (Bayons Lodge no. 1365), DPGM, to Past Grand Junior Overseer (and therefore becomes a V.W. Bro)
First Appointments:
W. Bro. John Speed (Mayflower Lodge no. 1899) to Past Assistant Grand Chaplain;
W. Bro.Richard Garn (Mercia Lodge no. 1240) to Past Assistant Grand Director of Ceremonies;
W. Bro.Andy Carr (White Stone Lodge no. 1203) to Past Assistant Grand Sword Bearer.
I am sure that you would wish to join our Provincial Grand Master in offering hearty and sincere congratulations to all these Brethren on their well deserved appointments and hope that they enjoy the honours awarded.
---
 Past Provincial Grand rank Promotions 
As our Provincial Grand Master has noted in his recent message - Saturday the 27th of March would have been our annual meeting of Provincial Grand Lodge.
As advised several months ago, following the decision to postpone the meeting, the current 'Active'' Officers will be rolling forward for another year until March 2022.
However, our Provincial Grand Master has been pleased to confer Past Provincial Grand rank Promotions on the following Brethren and sends his best wishes and congratulations to these Brethren.

Despite the postponement of Provincial Grand Lodge, the Promotions will be effective from the 27th of March 2021.
117 DUNCAN CAMERON SW
209 GEOFF NEWSTEAD SW
387 JOHN ELLERTON SW
1199  TERRY WILLIS SW
172 CHRIS OATES JW
209 GERALD HOWDEN JW
427 ALAN WILLS  MO
445 COLIN BURKE SO
916 GEOFF CAUNT SO
916 IAN SHAW SO
1122 IAN DELAINE-SMITH SO
1122 BARRY HARRIMAN  SO
1240 ROBIN SPARROW  SO
188 NEIL CHARLESWORTH JO
188 PAUL DOUGHTY JO
445 HUGH SMITH  JO
1732 ANDY STONES JO
1122 KEN WAINWRIGHT  Reg
1732 ALAN MAWER      Reg
117 MARTIN PETIT   Insp Wks
117 JOSEPH WALTER Insp Wks
172 RODNEY REDHEAD Insp Wks
387 DENNIS FOSTER     Insp Wks
1199 BOB STEPHENS Insp Wks
1203 COLIN HORNSEY Insp Wks
387 ALAN ARMIGER      Swd Br
387 TERENCE STUBBINS Swd Br
445 BILL SMITH Swd Br
916 MARSHAL FRYER Swd Br
916 DAVID CALLENDAR    Swd Br
946 ANDREW LEACHMAN Swd Br
1230 DAVID PATEMAN    Swd Br
1230 JOHN GOLDSTONE  SD
916 ANDREW BLACK Std Br
I am sure that you would join our Provincial Grand Master in his congratulations to these Brethren, with thanks for all the work they have undertaken on behalf of their respective Lodges and the Province.

If all goes to plan, it is intended to hold Provincial Grand Lodge later in this year after our (hoped for) return to 'normality when these Brethren will be recognised by our Provincial Grand Master.
---
Letter from PGM
26th March  2021
PROVINCIAL GRAND LODGE
-  Scheduled for  27th March  2021
Dear  Sir & Brother   ,
At this point in our Mark Masonic year I would normally be putting the finishing touches to my Address to be delivered in the morning ( having  re-read it about 50 times!) to a Lodge Room at the Epic Centre brimming with about 300 happy, smiling fellow Mark Masons .
Sadly once again this year we are blighted by the hideous Covid-19 virus which puts our lives on hold and a perpetual see-sawing between ''lockdowns''  and ''freedom.'' However now in March 2021 with the continued success of the vaccination programme we can , at long last, begin to look forward with growing confidence to a re-starting of our much loved Mark and Royal Ark Mariner meetings.
I have attended many VBM's ( virtual business meetings) over the last 11 months and congratulate those Lodges who have embraced the technology to keep in touch and undertake essential Lodge business. On each occasion I have included in my remarks that the Province will lend as much support as possible to Lodges re-starting when the government restrictions allow. The most important thing for us  to bear in mind is that some of our members may feel reticent to come back quickly and no pressure whatsoever should be put on them to do any other. If that Brother has an office to fill then the Lodge should make alternative arrangements, and I'm sure everyone will feel the same way I do.
It is my great hope we can meet face to face in Provincial Grand Lodge some time soon after September  and invest those officers I was unable to in 2020. The Wardens I can assure you are chomping at the bit to get out and fulfill their duties !
Finally I take the opportunity to wish you all well,  to keep yourself  and your families well and to look forward to better times ahead.
Mark well
Yours sincerely & fraternally,
Steve
Provincial Grand Master 
---
Congratulations to John Higson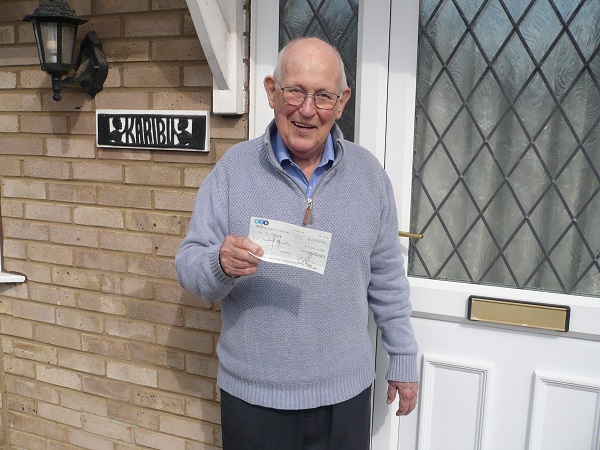 John Higson proudly holding his 1st place winnings from the latest Mark Draw. Remember - You've got to be in it to win it! 
---
2021 Q1 Prize Draw 
The winning numbers for the 2021 Q1 Prize Draw have been drawn and the lucky Brethren on this occasion are :
1st     £200.00     John Higson          Spurn & Humber  Ticket no. 219
2nd    £150.00     Robert Holland      St Wulfram's        Ticket no.181
3rd     £100.00     Chris Judge           John O'Gaunt       Ticket no. 82
4th     £100.00     Derek Bush           Nene                     Ticket no. 52
5th     £50.00       Shaun Dickson     Alexandra              Ticket no. 157
Many congratulations to these Brethren and continued thanks to them and all the Brethren who participate in the Provincial Prize Draw, which continues to give great support to the Province and our Charitable giving.
Any Brother who is not currently a member of the draw and wishes to take part should contact W. Bro.. Andy Carr, the draw Administrator or the Provincial Grand Secretary, W. Bro. Steve Roberts for further details.- stay lucky
---
Provincial Royal Ark Mariner Assembly Postponed
Brethren,
May I advise you that the decision has reluctantly been taken by the PGM and his GP Committee to postpone the Provincial Royal Ark Mariner Assembly which was scheduled to take place on Saturday the 5th June.
Despite the dates recently set out by the Government for the return to 'normality', it was thought that it was feasible that delays in the timetable may occur and that it was therefore best that a postponement was made sooner rather than later.
It is hoped however that if/when the situation should improve, a meeting will be arranged for later in the year and failing that as a fall back, could possibly be combined with the intended Mark Provincial Grand Lodge.
The PGM and his Committee are obviously very disappointed to have to make this decision but it was thought that under the circumstances, it was the best course of action to take in the current situation along with the ongoing uncertainty,
Best regards, S & F, 
Provincial Grand Secretary
Lincolnshire Province of Mark Master Masons
---
Provincial Grand Lodge
Brethren all, further to the recently imposed restrictions imposed by the Government and following a recent meeting of our Provincial Grand Master and the General Purposes Committee, it is with great regret that I advise you that the meeting of Provincial Grand Lodge, scheduled for Saturday the 27th of March 2021 has been postponed until a later date in the year.
As you are no doubt aware, the current conditions in Tier 4 set by the Government preclude any meeting at present and it is believed that any relaxation of these conditions prior to the date of the intended meeting could still possibly impose a  limit on the number of attendees.
There are of course also many of our Brethren who would normally attend the meeting that would quite rightly, be anxious about being present, given their personal circumstances and health concerns.
After deliberation, it was felt by the Committee that any such limitation on the allowable attendance coupled with the general uncertainty overall with respect to the restrictions, both current and future, would certainly diminish the attendance along with the significance and enjoyment of the meeting which is an important part of our calendar.
The PGM and the Committee fully appreciate that the decision, which was not taken lightly, will be regretted by all brethren and particularly by those who were to receive honours, but given the circumstances, it is believed that this is the correct choice to make at an early stage to avoid the even greater disappointment of a possible late cancellation.
The vaccine gives us much hope and the decision will be reviewed on an ongoing basis over the forthcoming months and it is the intention that the meeting can be re-arranged at an appropriate time as soon as possible when we can all attend safely and with peace of mind,
Best regards, S & F,
Provincial Grand Secretary
Lincolnshire Province of Mark Master Masons
---
Christmas Cheer
David Corby was pleased to receive an early Christmas visit from Santa (Phil Aitken), who popped to Grove, near Retford to present Dave Corby with his Mark Draw winnings cheque. Here's the evidence.
---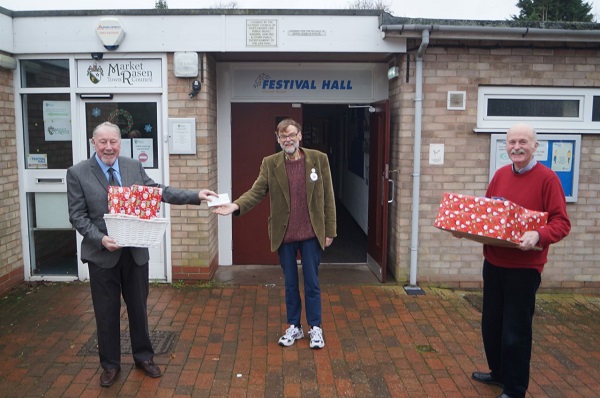 ---
 MBF: Update from St John Ambulance
Please click HERE to see the latest update.
---
Q4 2020 Drawer Winners
Brethren, the end of year (Q4) prize draw was recently carried out with the winners being chosen at random through Excel by the draw Administrator, W. Bro. Andy Carr
Many congratulations to those who were lucky on this occasion.
On behalf of the PGM, many thanks to all the Brethren who have continued to support the draw this year which in turn continues to strengthen the Province and importantly aids the many charitable causes we contribute to on an ongoing basis - we couldn't do it without your assistance which is so much appreciated.
Wishing you and all your families a safe, peaceful and happy Christmas and with a bit of luck, a better new year than 2020.
| | | | | |
| --- | --- | --- | --- | --- |
|   | Amount | Ticket No. | Name | Lodge |
| First | £              200.00 | 248 | David Corby | St. Oswald's |
| Second | £              150.00 | 26 | Ray Duke | Spurn & Humber |
| Third | £              125.00 | 33 | Peter Gibbons | Sutcliffe |
| Fourth | £              100.00 | 122 | C.  (Bloss) Billin | St. Deny's |
| Fifth | £                 75.00 | 234 | David Shepherd | Mercia |
---
 Christmas Message 
Brethren, please
click HERE
to see the Christmas Message from the Grand Master, H.R.H. Prince Michael of Kent.
---
'Freemasons without Borders'
Brethren , please find the link to a talk on YouTube, entitled 'The disappearance of Noachite Masonry' which may be of interest and which deals with the question of "
what has happened to Noah and his family in our rituals ?"
The lecture is by W. Bro. Matthew Roger Christmas and was given on 17th November 2020 on the Facebook site of a group called 'Freemasons without Borders' which has a weekly talk on all aspects of Freemasonry.
Legacy of the Festival Continues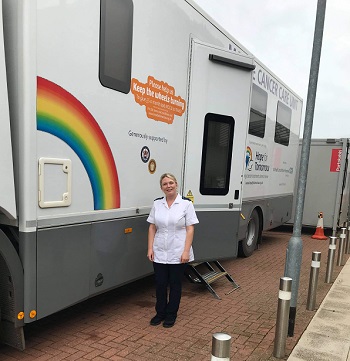 Brethren, the 2018 MBF Festival may seem a lifetime away but it's legacy continues.
The attached picture shows the 'Hope for Tomorrow 'mobile Chemotherapy bus which has recently been sited at Pilgrim Hospital in Boston and which has established itself as an essential part of the Chemotherapy service in our County / Province.
The legacy is further strengthened by the young lady in the picture - Lauren is the granddaughter of our recently departed Bro Mark Mason, W. Bro. David Faulkner and she has recently been assigned to be part of the team who looks after the patients who use the service, not forgetting also that the bus is named 'Elaine' after the late wife of W. Bro, Phil Anyan.
David's widow, Kathleen, has kindly sent this picture and having spoken to David about this just before his sad death, I know how proud he was that Lauren was involved in the project which the MBF and Lincolnshire Mark Masons supported so well in partnership with the Hope for Tomorrow Charity.
Brethren I think it can be safely said that the Mark Province of Lincolnshire has marked well and can justifiably be so very pleased with our contribution to this valuable and much needed service.
---
A short History of the founding of Remigius Lodge of Mark Master Masons

Remigius Lodge of Mark Master Masons should have celebrated its 150th Anniversary in October, but unfortunately its celebrations have been put on hold until after this Covid-19 Epidemic permits, but doesn't stop a short History of its founding.
W.Bro Bruce Goodman has compiled this short history, which you can download HERE.
---
MARK VIRTUAL TALK
Following the unfortunate cancellation of the talk by V.W. Bro. Derek Bontoft last month, may I advise you that the talk has now been rescheduled for:
Tuesday the 10th of November at 8pm
(
please note the slightly later than normal start time)
The joining link and meeting details are:
Topic: 'The Importance of Adoniram'
Time: Nov 10, 2020 08:00 PM London
Login details are available from your Lodge Secretary.
---
A VIRTUAL MEETING PROVINCIAL GRAND LODGE WAS HELD ON
THURSDAY 5th NOVEMBER at 11am utilising the 'Zoom' facility. 
Nearly sixty brethren attended a "virtual" meeting of the Provincial Grand Lodge of Mark Master Masons of Lincolnshire.
They were please to witness the Right Worshipful Provincial Grand Master confirm the Appointments and Promotions for this year, and to have the opportunity to hear his address to the brethren.  
Address to the Brethren - Provincial Grand Lodge 5th November  2020 ( Virtual meeting)
Brethren: Welcome to this Provincial Grand Lodge meeting of the Mark degree in Lincolnshire - we are making history today- for all the wrong reasons being deep in the clutches of this dreadful Covid-19 pandemic. I hope those attending and all our Mark Brethren in Lincolnshire are keeping healthy and taking good care of their loved ones and fellow Mark Masons who need assistance? The purpose of this meeting of course is to conduct necessary Provincial business as required by the Constitutions and I will have more to say on our current position a little later. I think we can all agree we are missing our Mark & RAM Masonry terribly and can't wait for normality to return.
*************************************************************
Brethren: I thank you all for attending this zoom meeting  today and for your tremendous support during the most difficult of times.  At this point in Provincial meetings I would normally welcome distinguished guests from all four quarters of England and Wales- sadly the pandemic has put pay to that possibility and I certainly look forward with confidence so we can re-establish our strong bonds with other Mark Provinces which we visit on a regular basis. Because of our wonderful venue at the Epic Centre our visitors put us high on the list of ''go to'' venues. The Epic Centre in return for our support have been extremely obliging in trying to arrange our next face to face Provincial Grand Lodge. I would not be so foolish  as to assume it will be on the usual 4th Saturday in March 2021 - however with  major progress on a viable vaccine and people obeying the restriction rules God willing it will take place in 2021 at some point.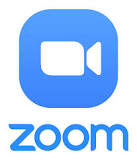 Provincial Grand Lodge even in this format requires a tremendous amount of organisation and once again  I do sincerely thank our hard working Provincial Grand Secretary Steve Roberts  and my Deputy  Provincial Grand Master Ron Harrison (now zoom Master)  and all  the other Provincial Officers involved  for their efforts too. Steve's work behind the scenes has been phenomenal and he often helps me to interpret rules as well as almost every Secretary or Scribe in Lincolnshire- thank you so much- I could not do this job without you.
My first year in charge HAD been a happy and successful  year for the Lincolnshire Mark Degree up until 13th March 2020 a mere 2 weeks before its completion  . In the first 7 days of being Installed we undertook a team visit to St Wulfram's Lodge in Grantham and a few days later handed over on behalf of the MBF the keys to a St John Ambulance at a church service in Spalding. The team of active officers visited 11 Lodges, 2 of which included dedications and we were greeted as only Mark/ RAM Masons can. Sadly, several milestone anniversaries are now on hold due to current restrictions. They are Remigius 150th, St Mary 100th and Bayons 50th- we look forward to the day when we can set that right. 
In June last year I was immensely proud that when the flooding disaster occurred in Wainfleet we stood shoulder to shoulder with our Craft Provincial Grand Master Rt. W Bro David Wheeler, a great supporter of the Mark in Lincolnshire  and our own Mark Benevolent Fund provided £25,000 ( that is one third) towards the initial £75,000 raised. 4 more sister Mark Provinces donated a further £7,000 towards that appeal and I cannot thank them enough for being so generous without any prompting.
Many aspects of our lives have changed by necessity however I must emphasise the work of the MBF continues, even more so pressing in the current situation. We must keep up our support for the forthcoming Festivals in the same way others supported us - we have this year donated another £5000 to the Craft 2025 Festival and also £3000 to East Lancashire's 2021 Festival. To that end I ask you all as soon as circumstances permit to continue making donations to our Lincolnshire Mark Benevolent Fund. It sits in a strong position, but a protracted starvation of funds will soon alter that - we will however continue a prudent course and ''cut our cloth to fit'' to coin a phrase.
Linked to this charitable giving  is our Mark Prize Draw, still administered by W Bro Andy Carr and his team, for which I am extremely grateful and take the opportunity to thank Andy for his hard and unsung work - I encourage all those participating to continue to do so. Not only does it distribute great prizes, it gives us the ability to fund both our  Provincial Grand Lodge and use funds for Festival donations. Please do continue your support for this initiative which brings a big boost to the winners in the most difficult of times. 
On the last two occasions I have taken the trouble to hand-deliver the winners cheques and the results can be viewed on our website- believe me the recipients were not bribed to be smiling so broadly as they did!
 Turning to Grand Mark Lodge: the last meeting was on the 10th March and those who attended knew that something unpleasant was coming down the tracks- the attendance was down on normal and safety precautions were in use. It was really the first time I'd seen what has now become accepted practice.
Sure enough, UGLE put out a directive on the evening of Thursday 12th and I was invited to a meeting at 8 o' clock on Friday 13th to discuss its implications. The rest as they say is history. 
Unfortunately, the recipients of Grand Rank honours 1st appointments scheduled for June were unable to attend to be invested, which is a very great pity. W Bro Geoff Tuckett, our Provincial Chaplain was appointed  an active office as AGIG and I take the opportunity to thank Geoff for his wonderful Orations at the dedications undertaken last year, W Bro Peter Dolby was appointed active Grand Steward , again thoroughly deserved. W Bro Bruce Goodman (our Craft APGM) received PAGDC and W Bro Steve Siddle PAGSwdB.
In September, the Past rank promotions were to be appointed with W Bro Keith Robinson our Prov G DC becoming a Very Worshipful Brother by promotion to PGJO. 
W Bro Steve Roberts was promoted to PGJD and likewise W Bro Derek North to PGJD. 
I congratulate each and every one of them and commiserate that they were unable to be present and invested by one of the Rulers.
Although thankfully in December last year W Bro's Mick Stocker, Peter Dolby and Geoff Tuckett were able to attend and received promotions to Royal Ark Mariner Grand Rank the same will not be possible for this year's recipients. W Bro's Phil Anyan, John Speed and Roger Hansard will be victims of the pandemic as the Grand Assembly of Royal Ark Mariners will not take place as planned. Once again, I commiserate with a wonderful day out being denied you.
Turning to our own Province: we all know we are a very happy degree, but we must continue to be a caring degree. In a message from me that was put out on Friday 27th March (the day before Provincial Grand Lodge) I reflected on what was happening and that we were unable to meet the following day. I encouraged the work of the Lodge Almoners- but asked Brethren to assist  Lodge Almoners by advising  him whenever you hear of a brother or his dependents  in need of assistance, and if possible staying in touch by whatever means possible- the old fashioned phone call being favoured. 
I congratulate and confirm all active Officers appointed back in March and reiterate they will be re-appointed in March 2021 for a further year. We as the Mark took this decision very early on not knowing at the time how long this pandemic would affect us. We assumed today would be the day we could meet face to face, but it has proved impossible. A year spent as an active officer is to be treasured and I hope still we can re-group and undertake team visits from restarting up to March 2022. 1st appointments to active office in 2021 will by definition have to be deferred but I'm sure those who were due will fully understand and appreciate the position- knowing that if they had been appointed in March 2020 they would receive the same treatment.
Thankfully, the technology which enables us to meet virtually today has been a Godsend for many of us. Our General Purposes Committee has been meeting once a month since March to keep vital business of the Province functioning. A great deal of work goes on behind the scenes and I can assure you the Executive have been kept extremely busy dealing with changes and putting out guidance.
Perhaps some will feel it is all overwhelming but has been thought necessary. The Mark Order globally has been innovative in allowing Lodges to meet virtually and undertake essential business. It is no substitute for the real thing, but certain things have to be dealt with. I appreciate it is difficult when Masters are obliged to hold office for more than one year- that officers are obliged to hold station- these are extraordinary times and require extraordinary measures. My hope is they will soon be behind us and we look forward to a bright future and we can rebuild our wonderful Mark and RAM degrees. Work which was ongoing with ''Awareness evenings'' planned before the virus intervened. 
On that subject I thank publicly V W Bro Derek Bontoft for his work in putting together the ''Awareness'' material for both Mark and Royal Ark Mariners and also for giving us informative and entertaining Zoom Talks whilst the shutdown has been affecting us. His next Talk is next Tuesday at 8pm entitled ''The importance of Adorinam''. Do try and support him and the Province and lets swell the number of attendees to 3 figures- please ! Derek deserves our respect and adoration for his tremendous energy and commitment to our Orders, asking him to become our Provincial Lecture Master a year ago was a key part of my efforts to promote and strengthen our Mark degree in Lincolnshire, and I never regret it for a moment.
Whilst referring to zoom meetings, I encourage the Lodges to hold these whilst we are suffering to keep members in touch- either virtual business meetings or indeed Lodge social meetings- and  I would be extremely happy to receive an invitation to join you if I possibly can and perhaps be available to answer any questions those attending want to ask.
 I note from the Registrar's report that we suffered a larger than acceptable reduction in the number of subscribing members particularly in our Royal Ark Mariner Lodges and any decline is to be regretted. If we take the extra time and effort both to prevent resignations and encourage membership things will surely improve? Clearly, we can do little about that until things change. When our Province does re-open for business  those Lodges who are presently finding difficulty in attracting candidates and avoiding resignations  -  we will try to offer help and guidance on initiatives for recruitment and retention being used successfully in various parts of both the country and our Province. 
Essential to this is ensuring our Craft Lodges remain vibrant and providing the right men to join us. 
I continue to be thankful to you all for the privilege of being your Provincial Grand Master and wish you every happiness in our Mark Masonic Order for many years to come. 
May the Great Overseer of the Universe bless you All.
Stay safe - and Mark well. 
---
MARK PRIZE DRAW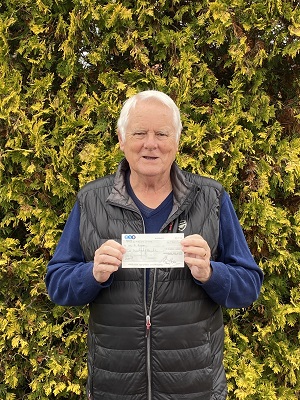 You have to be in it to win it and that was certainly the case recently for W. Bro. Tony Reeve of St. Oswald's Lodge who won the first prize of £200 in the latest quarterly draw.
Many congratulations to Tony who was obviously pleased to receive the winning cheque which was hand delivered by our R.W. Provincial Grand Master and all the recipients of the other prizes on offer.
The draw continues to prove it's worth, both to the Province and the charitable causes which have been and will continue to be supported by you, the Mark Brethren of Lincolnshire.
Many grateful thanks to those who continue to support this important initiative - for those who currently do not participate in the draw but would like to do so, please contact the Prize Draw Administrator, W. Bro. Andy Carr or the Provincial Grand Secretary who will be more than pleased to supply further details - you may even get your picture taken if you win !!!
---
Bayons Mark Installation
At a meeting of six brethren, W.Bro Richard Powell was proclaimed Master of Bayons Lodge MMM on 22nd October 2020. Richard said, "It was good to see some good friends that I have not seen since February at our RAM meeting. I spent more time driving to and from the meeting than I did in the Lodge building including the meeting, the photo afterward and a chat before driving home again".
The meeting was of course very different from usual, but was a very cordial affair. Richard remarked "I am of course honoured to be doing a second year and hope that I will at last be able to chair an Advancement, although this is still far from certain with the way things are going".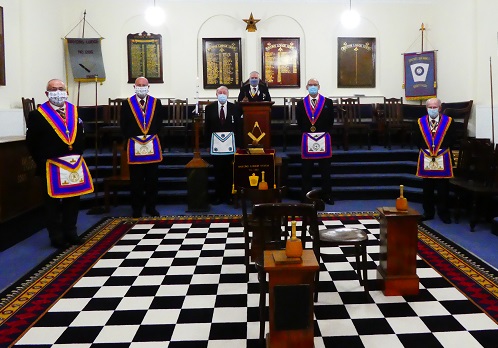 In the photo (taken using a timer on the camera) from left to right, Jeff Stephenson - DC, Charlie Peatfield who volunteered to be Tyler for the meeting, Jamie Evans – SW, myself, Neil Hollingsworth – Secretary and Dave Pattison – Treasurer.
---
Royal Ark Mariner Grand Rank
The R.W. Provincial Grand Master is pleased to announce that the following Brethren are to be honoured with Royal Ark Mariner Grand Rank:
W. Bro. Phillip Anyan - Trent Lodge of RAM no.172;
W. Bro. Roger Hansard - Remigius Lodge of RAM, no.117;
W. Bro. John Speed - St. Nicholas Lodge of RAM, no. 946.
The Investiture meeting of RAM Grand Assembly is scheduled to take place on Tuesday 8th December at Great Queen Street and should the meeting go ahead as planned, I am sure that a good number of Lincolnshire Royal Ark Mariners will wish take the opportunity to attend and support these Brethren who have been granted their preferment for all their hard work and support for our R.W. Provincial Grand Master, the Province of Lincolnshire and their respective Lodges in general - many hearty and sincere congratulations to them all.
---
Amount
Ticket No.
Name
Lodge
First
£              200.00
74
John Stead
Bayons
Second
£              150.00
97
Chris Fletcher
St Matthews
Third
£              100.00
156
Roger Ward
Spurn & Humber
Fourth
£              100.00
55
Paul Darlaston
St Wilfred's
Fifth
£                 50.00
263
Geoff Tuckett
Urania
Submenu