Latest Winners
March Prize Draw 
We held the March Prize Draw at Sutcliffe Lodge on Friday 10th March when the following were winners:-
1st Prize - £300.00 -W. Bro. R. Edgar 
2nd Prize - £200.00 - W. Bro. J. Sharpe
3rd Prize -  £150.00 - W. Bro. R. Hansard
4th Prize - £100.00 - W. Bro. A. Downes 
5th Prize - £60.00 - Bro. D. Nicholson
6th Prize - £60.00W. Bro. C. J. Bloss
Prize money we have so far paid out amounts to £7,870 and the total so far sent to the Festival £34,608.
Thank you to all of you who are supporting the Draw and those of you who are not so far please join us, it goes towards your Honorifics and IF YOUR NOT IN IT YOU WON'T WIN IT!
---
The latest draw took place at the Provincial Grand Lodge meeting and the following prize winners were drawn:
1st prize £500.00
Mrs. Margaret Baird
2nd Prize £300.00
George Cummings,

3rd Prize £100.00
Mike C. Westfield,
4th Prize £50.00
Fred Sellers
5th Prize £50.00
Greg Stratford
---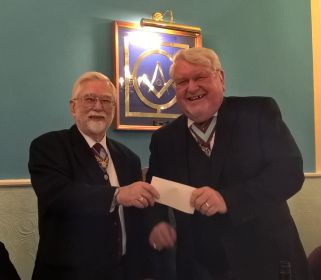 W.Bro. Mike Robinson handing a cheque to W. Bro. Martin Cooper, Master of St. Oswald's Lodge M.M.M., for £3672.00 on Tuesday 8th March. This was following our drawing the quarter's winners of The Draw. That cheque has been forwarded to the Festival making a total sent of £20,440 so far.
The winners were:-
1st for £300.00 W. Bro. C. Oates of John O'Gaunt Lodge 
2nd for £200.00 W. Bro. R. Wade of St. Oswald's Lodge
3rd for £100.00 Bro. J. Cox of St. Guthlac Lodge
4th £60.00 W. Bro. J. B. Southall of St. Swithun's Lodge
5th £60.00 W. Bro. A. R. Austin of St. Botolph's Lodge
6th  £60.00 W. Bro. D. Robson of St. Wilfrid's Lodge
---
Latest Festival Draw held at The Ark Lodge No. 1910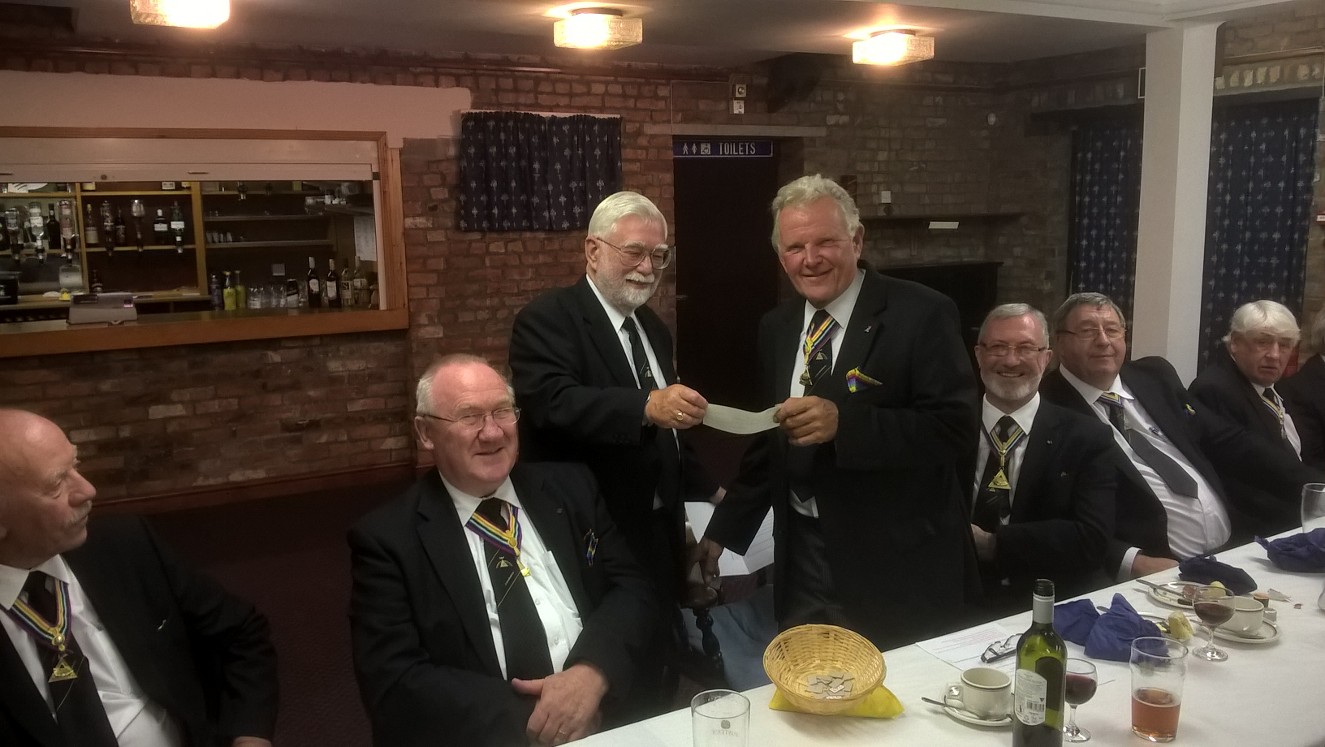 The latest MBF Festival Draw was held on 10th July at The Ark Lodge No.1910, at Alford. The photo shows W.C Geoff Burgoin RAMGR receiving a cheque from W.Bro Mike Robinson for £2708.00 to forward to the Festival making £10,788.00 donated so far. The prize winners were 1st for £300.00. Bro. Shaun Dickson of Alexandra Lodge, 2nd for £200.00 W.Bro. Hugh Smith of St. Swithun's, 3rd for £100.00 W.Bro. john Moulson of The Haven, and the promotional prize for May and June of £60.00 went to Bro. Gregory Stratford of Spurn and Humber Lodge.
---
Friday 31st October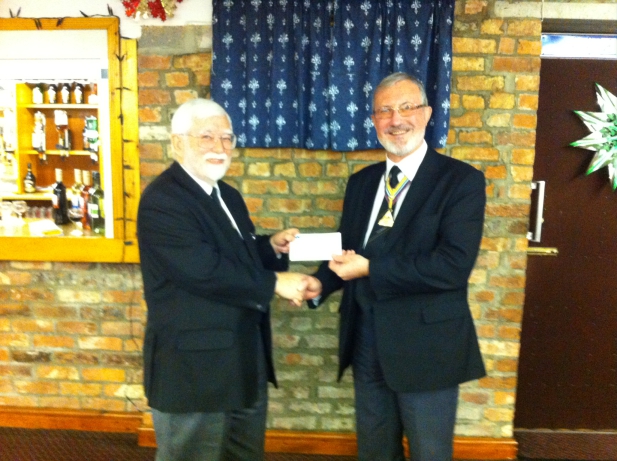 This photograph was taken on the occasion of the third draw of Lincolnshire Prize Draw when the three winners were:- 1st W. Bro. John Bush of Nene M.M.M. No.427 who won £325.00; the 2nd prize winner was W. Bro. Chris Oates of John O'Gaunt M.M.M. No 172 who won £215.00; and the 3rd prize winner was W. Bro. Bob Parsons who won £110.00.
The photograph shows me presenting the W. Commander of The ARK Lodge RAM No 1910, W. Bro. Ray Wade, with a cheque for £2,592.00 to be sent to W. Bro. John Clements, Mark Provincial Charity Steward, for the 2018 Festival.
This donation makes the total that has been given from The Draw in its first year £5,700.00 and total value of prizes won £1,420.00.
This is from a total membership of 125 holding 187 numbers. If more of the 800 M.M.M's. in Lincolnshire joined, at only £5.00 per month per number, the prize money would rise and we could have more draws each year and, therefore, more winners. More  importantly the £4.00 from each number donated to the Festival would increase dramatically.
Remember everyone who you know, or have known, suffering with cancer and the trauma of having to travel miles for chemotherapy medication and what a marvellous improvement it would be to have the medication brought to their local village or town.
JOIN NOW you could be among the next winners!
---
Friday 31st October 
The draw for the Lincolnshire M.M.M. Draw was made on Friday 31st October at the Lincolnshire Provincial Officer's Lodge Installation Meeting.
The Three winners were:-
W. Bro. David Wheeler of White Stone Lodge 1203 - £270.00
Mrs. Colleen Kitchen - £180.00
W. Bro. J. Ian McFeeters of Nene Lodge No. 427 - £90.00
A cheque has been forwarded to the 2018 Festival for £2188.00. This makes a total of £3108.00 donated to the festival so far.
The next draw will take place at The ARK Lodge No 1910 on Friday 19th December, 2014 when the prizes will be a minimum of £300.00, £200.00, and £100.00.
Please encourage all the members of your Lodge to join the Draw, it only costs £5.00 per number per month, £4.00 of which goes to the Festival to help to buy more Mobile Chemotherapy Units to help those unfortunate enough to have cancer to receive their medication near to home.
If you're not in you won't win!
Downlad the Draw Application Form:
 Lincs MMM Festvial Draw application form and a standing order